William Begg advertised himself as "plough specialist, Tarbolton, Ayrshire" in July 1929.  In that same year he exhibited for the first time at the Highland Show, held in Alloa.  On his stand he referred to himself as "William Begg, agricultural implement maker, Tarbolton".  By 1948 he was joined by his sons; his business became known as "William Begg & Sons", a name that continued until 1968.  It was superseded by William Begg & Sons Ltd.  The company continued until 1987 when it was wound up.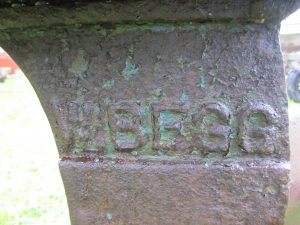 William was a regular exhibitor at the Highland Show from 1929 to 1970. He was also an innovative plough maker.  He entered his "The Triumph" sub-soiling plough for the new implement award in 1930.
William's ploughs developed and changed over the decades as he brought out new ploughs and plough designs.  In 1929 his ploughs included a moveable bar point three horse subsoiling plough, with wheels and tines to break up the subsoil, a moveable bar point subsoiling plough, a moveable bar point digging plough, champion swing plough, new chill plough "Begg junior" with coulter hole, and an improved moveable bar point plough, for stony land, with coulter hole.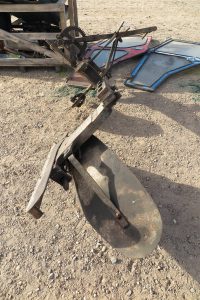 In 1934 he was making ploughs for horses as well as for tractors.  His tractor ploughs included his Begg's new patent "double turn" tractor plough (patent no 405022), a trenching tractor plough, and a double furrow tractor plough.  By 1951 he was making ploughs to work with specific makes of tractors.  They included his single furrow, deep digging tractor plough to fit standard Ferguson tractor, his single furrow, general purpose, to fit standard Ferguson, a single furrow, deep digging to fit Fordson Major hydraulic.
By 1963 his ploughs included a single furrow plough, hydraulic, deep digging, to suit category 1 tractors, a single furrow general purpose plough to suit category 1 tractors, a single furrow, hydraulic, deep digging, with new patent top link, to suit category 1 tractors, as well as similar ploughs to suit category 2 tractors.  He also manufactured ploughs for forestry tree planting.
William was well-known for his ploughs used in forestry work.  By 1948 he was making a single furrow tractor plough for forestry work.  From 1951, and throughout the 1950s and early 1960s, he manufactured a forestry hill plough, no. 3 type plough with fabricated frame, for tree planting.
The ploughs of William Begg rivaled those of Robert Begg, though each had their own models.  If you want a heated debate on ploughs and ploughing ask an Ayrshire farmer which Begg ploughs they preferred!
The photographs of the William Begg plough were taken at the Scottish National Tractor Show, Lanark, September 2015.
For Begg's forestry plough see Forestry Memories website: http://www.forestry-memories.org.uk/picture/number2098.asp and http://www.forestry-memories.org.uk/picture/number2100.asp
© 2016 Heather Holmes