Scotland was an important centre for the manufacture of corn rick stands. A number of the makers were well-known, and included Thomas Gibson & Son, Bainfield Ironworks, West Fountainbridge, Edinburgh.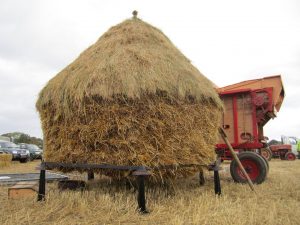 Thomas Gibson & Son started life as another company: Gibson & Tait, iron and wire workers, smiths, and agricultural implement makers at Bainfield; it was operating under that name in 1868. It was renowned for its manufactures, being awarded a silver medal for its collection of gates, fencing and other manufactures at the Highland Show in 1870. In the following year it won a medium silver medal for its collection. A further silver medal was to come in 1872 and 1873.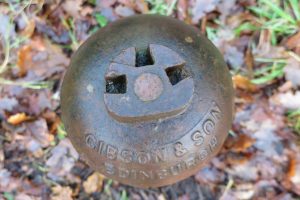 The partnership between Messrs J. Charles Tait and Thomas Gibson was dissolved by mutual consent on 7 November 1873, leaving Mr Gibson, free to carry on the business of the company. By the late 1860s Thomas Gibson was operating under a new name: Thomas Gibson & Son. It was a name that was to continue until at least the First World War. During that time the company remained a Bainfield, but also had a premises at Gibson Terrace from at least 1901.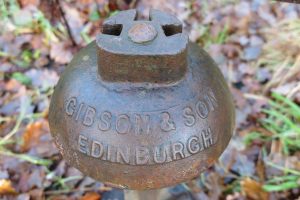 The company undertook a wide range of trades and manufactures. From the mid 1870s it was an agricultural implement maker and agent, engineer, engineer and machine maker, iron bedstead maker, iron bridge builder, iron fence manufacturer, iron fence and hurdle manufacturer, iron founder, iron gate and palisading manufacturer, iron girder builder, ironmonger, ironmonger and smith, iron railings and ornamental gate manufacturer, iron roof manufacturer, iron and steel bridge builder, iron and wire fence maker, smith, wire cloth, wire netting and fence manufacturer, and wire fence manufacturer. Its trades are reflected in its manufactures. They included ornamental iron and wire summerhouses, entrance gates, field gates, continuous fencing, turnstiles, hurdles, tree guards, corn rick stands, horse rakes, fodder racks, feeders, wheel barrows, stable racks, iron and wire chairs, garden chairs, potato baskets and wire netting.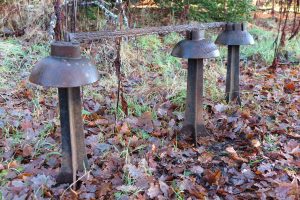 The company had started to make iron corn rick stands by 1875. These were a framework of iron spars which interlocked together in an octagonal shape which had a stool at each corner and one in the The stools were designed to ensure that rats did not climb up them: they were mushroom shaped with an overhang which was to be difficult for rats to climb over. They were made in a number of sizes (as were those from other makers). It continued to make a selection of them until 1919.
As with Gibson & Tait, Thomas Gibson continued to exhibit at the Highland Show, also winning awards for his manufactures. They included a silver medal for a wrought iron field gate in 1874 and iron hurdles for sheep pens in 1885; a minor silver medal for its general collection in 1875 and 1876. Thomas widely advertised in the Scottish agricultural press, notably the North British Agriculturist.