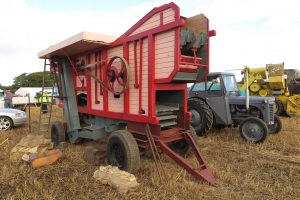 Allan Brothers, engineers, 102 West North Street, Aberdeen, were engineers well as a gas engine manufacturer, mechanical engineer, oil engine manufacturer and a machinery oil merchant and refiner.
By 1901 Allan Brothers had moved its premises to the Ashgrove Engineering Works in Back Hilton Road, where it continued its activities until the mid 1950s. The company held its final winding up meeting in February 1957.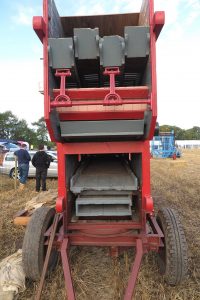 The company was an enterprising one and exhibited at the Highland Show from 1901 until 1949 and advertised in the North British Agriculturist from 1901.
Allan Brothers was renowned for its threshing machines. The company first exhibited them at the Highland Show in 1931. One was a high speed semi-portable threshing, finishing and sizing machine of 48 inches, selling fro £200. A second one was a high speed portable threshing, finishing and sizing machine, of 36 inches, selling at £160. A third one was a high speed, semi-portable threshing and finishing machine, of 24 inches, which sold at £110. In following years the company was exhibiting larger mills: there was a 54 inch wide one exhibited at the 1934 show.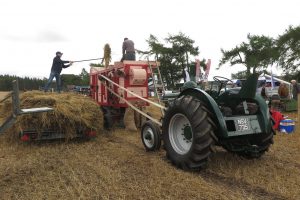 The company was also renowned for its oil engines. It manufactured a range of them, under the name "Allan" oil engine. In 1906 they included oil engines from 2 1/2 to 17 brake horse power engines (2 1/2, 5, 6 1/2, 8 1/2, 11, 14 and 17). By 1909 it also manufactured a 23 break horse power engine. evelopmments continued and in 1926 the company entered one of its engines for the new implement award of the Royal Highland and Agricultural Society of Scotland. This was fitted with the latest improved "frozen cylinder saver" which consisted of an opening in the cylinder jacket covered in a flexible diaphragm secured by a ring. If the cylinder was allowed to freeze, the diaphram bulged out and bursted, thus releasing the pressure due to freezing, and prevented the cylinder jacket being destroyed.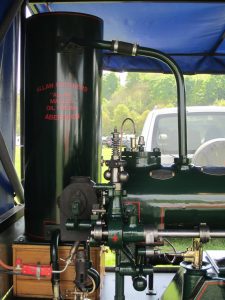 The company moved with the times in developing new engines fro different fuels. In 1926 its 23 brake horse power engine special designed for agricultural purposes was to work with any brand of paraffin. In 1933 it manufactured paraffin oil engines of the lampless type, as well as its crude oil engines
There are still some manufactures from Allan Brothers around the rally fields. Look out for threshing machines and oil engines.
The Allan oil engine was exhibited at the Dumfries Vintage Rally, 2014. The threshing display was at the Daviot vintage rally. October 2016.