Many readers will be aware of the eminent firm of Scottish agricultural implement makers of John Wallace & Son, of Glasgow. By 1904 the company had a premises at Ayr, at the Agricultural Implement Works, Railway Works, at Townhead. This Ayrshire branch was later to become a company in its own right under the name of John Wallace & Sons (Ayr) Ltd which continued in business until at least 1967; it was not dissolved until 30 August 1985. Its company limited by guarantee status came in 1949.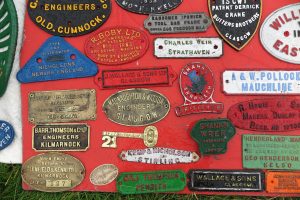 By 1934 the company had a number of premises in Ayr, and not only at Townhead Works. There were further ones at Smith Street and Station Bridge. In 1928 it had opened premises at Kilmarnock, at West Langlands Street. In 1944 it also had a premises at Stranraer.
In 1938 the company was known for its reapers, mowers and double drillers and manure sowers. It held a number of agencies. In 1942 they included John Deere and Caterpillar. Three years later they included Massey-Harris, Bamfords, Wallace, Oliver, David Brown, Ransomes and R. A. Lister. 1966 these included Ford and Ransomes.