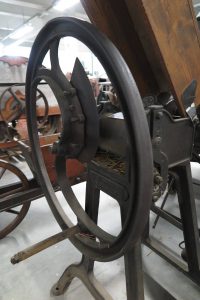 George Bruce was already undertaking his business at 35 Market Street, Aberdeen, in 1885.  This was an address that was associated with him and his company George Bruce & Co., until the mid 1900s when he moved to 14 Regent Quay, remaining there until well through the 1960s.
While George started his business as a seedsman and as a nurseryman, he soon became an implement merchant.  By 1902 he was advertising in The Scottish Farmer as "seed and implement merchants".  In 1951 the company described itself as "agricultural seed and implement merchants and engineers". 
The company was an extensive agent of the leading makers throughout Scotland and England.  In 1885 it acted as agent for the following leading companies: Harrison, McGregor & Co. Leigh, Lancashire, R. Hornsby & Sons Ltd, Grantham, Samuelson & Co., Banbury, G. W. Murray & Co., Banff, W. Gossip, Lochee, East Yorkshire Cart and Waggon Company, Beverley, Yorkshire, John Richardson & Son, Carlisle, William Hunt & Son, Sheffield, Alexander Fraser, Ballindalloch, Barford & Perkins, Peterborough, Thomas Black & Sons, Coldstream, and Auchinachie & Simpson, Keith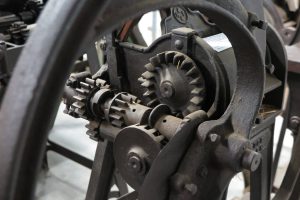 In 1902 farmers and agriculturists could have selected implements and machines from the following makers: Harrison, McGregor & Co. Ltd, Leigh, Lancashire, Rainforth & Sons, Lincoln, Ransomes, Sims & Jefferies Ltd, Orwell Works, Ipswitch, Richmond & Chandler Ltd, Manchester, W. N. Nicholson & Sons Ltd, Newark On Trent, Smith & Wellstood Ltd, Glasgow, George Hathaway, Chippenham, and T. Bradford & Sons, Manchester.
George Bruce – an agent for the farmers and agriculturists in Aberdeen town and country.
The photographs of a chaff cutter sold by G. Bruce, Aberdeen, were taken at the Highland Folk Museum, Newtonmore, May 2016.
© 2016 Heather Holmes