One of the well-known Aberdeen implement and machine makers was Ben Reid & Co. It was also known for its nurseries and forestry business which it continued to undertake exclusively from 1906 onwards.
By the mid 1860s the business described itself as "Ben Reid & Co., agricultural implement makers, Bon Accord Works, Justice MillLane, Aberdeen. In 1867 it described itself as Ben Reid & Co., seedsmen, nurserymen and implement makers, Aberdeen. A decade later its addresses were at 16 Guild Street and Bon Accord Works, Justice Mills. By the mid 1890s it also had premises at Fettercairn and Laurencekirk.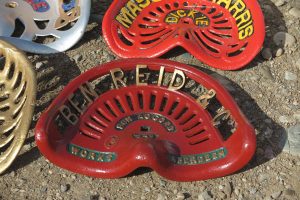 The company undertook a wide range of trades in implement and machine makers, as an agricultural implement agent, a maker, engineer, engineer and millwright, galvanised merchant, garden chair maker, garden tool maker, horticultural builder, iron bridge builder, iron fence and hurdle manufacturer, iron founder, iron gate manufacturer, makchine maker, mechanical engineer, millwright, weigh bride maker, weighing machine maker, wire fence maker. and wire worker.
As an agent it associated itself with leading names of other implement and machine makers. In the 1860s they included Samuelson & Co., Banbury, Ransomes, Sims & Head, Ipswich, E. H. Bengal, Heybridge, Alexander Jack & Sons, Maybole. J. & T. Young, Ayr, Shotts Iron Co. In the 1890s they included Massey Harris Co Ltd, London, Tangyes Ltd, Birmingham and Glasgow. It was a regular exhibitor to the Highland Show especially from the late 1860s onwards.
It was also an award-winning company, receiving a silver medal from the Royal Agricultural Society of England for its patent disc broadcast sower in 1872 and for its farmyard manure spreader. This was quite an accolade as few Scottish companies won medals form the Society. From that Society it also won a second prize for its improved heavy harrows in 1872. In Scotland it won a number of silver medals form the Highland Society. They included one for its lever drill in 1868, and its collection in 1870, 1871 1872, 1873, 1874, 1875 and 1876. It entered a number of its implements for the Highland Society's trials. These included a broadcast manure distributor in 1884, manure distributer in 1886, and a grass seed sowing machine in 1887. Members of the company also held patents, including ons for improvements in straining or tightening wire in 1866, improvements in drill sowing machines, horse rakes and horse hoes in 1867, improvements in seed sowing machines in 1869, and an improved spanner or nut key in 1870.
William Anderson was one of the partners of the company. On 19 July 1893 the Scottish agricultural newspaper, North British Agriculturist, provided a short biography of him. It provides a good deal of information on the name and the company he was at at the helm of:
"Mr. Anderson of Messrs Ben Reid & Co., Bon-Accord Works, Aberdeen, is one of the best known and most highly-respected leaders in the ranks of the agricultural engineers. Mr Anderson has risen from the ranks, for his father was a country blacksmith, and he learned that trade with his father. His energies, however, could not find full scope in a country smithy, and before long he became the travelling representative of Messrs Murray & Co., agricultural implement makers, Banff, and by his characteristic energy and good management he soon wrought that business up to a very flourishing state. His marked success and sterling qualities soon attracted the attention of Mr George Reid, who had joined the business established by his uncle, Mr Ben Reid, and on the retirement of the latter gentleman had become the partner in the firm of Ben Reid & Co. This business was originally confined to the seed trade, but the implement department, grafted upon it shortly afterwards, expended so rapidly that the seed business was formed into a separate business under different properties, all the resources of the Bon Accord Works being taxed to the utmost to supply the demands upon them for agricultural implements. In 1876, Mr George Reid decided to select two partners, who, as he felt certain, would be able to make the Bon-Accord Works an enduring monument to the memory of their founder, Mr Ben Reid, and his selection fell upon Mr Anderson and Mr Garvie. These gentlemen closed with this invitation, and since the death of Mr George Reid, in 1879, they have been the sole partners in the firm. The Bon-Accord Works are among the most extensive of the kind in the united Kingdom, and they are splendidly equipped with machinery of the most modern and most approved construction, many of the machines used in these works being the products of the inventive genius of Messrs Anderson & Garvie. In addition to a very large home business, the firm conduct an immense foreign business, and in every country under the sun, where improved methods of cultivation are used, there are the products of the Bon-Accord Works are well known and highly appreciated. Their principal products are the Bon-Accord reapers and ploughs, threshing machines, seed drills, and broadcast sowing machines. They also do a large business in the manufacture of ornamental fences and gates. Mr Anderson regularly attends all the leading shows in the United Kingdom, so that he is better known to the show-goers than Mr Garvie, who is constantly at the head of the business conducted in the works. Mr Anderson is a gentleman of a very marked individuality and robust independence. He is no supple-tongued salesman, who can talk any unwilling purchaser into buying his goods. On the contrary, he stands secure in the high reputation which his firm have long been held for the excellence of their products; and while he displays his goods in the most attractive style, and has a pleasant word for every one, he makes a very strict point of avoiding any appearance of pressing sales: and any cheap jack who attempts to beat down his prices invariably gets short shrift at his hands. It is safe to say also that no one stands higher in the estimation of his fellow exhibitors than he does, and a good proof of that is found in the fact that for four years in succession he was unanimously elected President of the Scottish Agricultural Engineers, from which post he retired only two years ago, and only a few weeks ago he was unanimously elected President of the Royal Tradesmen in Aberdeen.
Ben Reid & Co. – an eminent agricultural engineering company from the second half of the nineteenth century whose activities continued until 1907.