In the early 1850s if you heard the name "Scoular' you would have associated it with the company of Scoular & Co. agricultural implement makers at Haddington. In 1857 Mr Scoular retired in favour of Kemp, Murray & Nicholson of Stirling who had taken a lease of their premises and purchased the whole stock in trade, machinery, patterns and working plant.
By the early 1870s there were a number of members of the Scowler family around Stirling that worked as implement makers. James Scoular of Woodside, Kippen, made ploughs, drills as well as a collection of implements. There was also John Scoular of Crook Smithy, Stirling, who continued in business until at least 1910.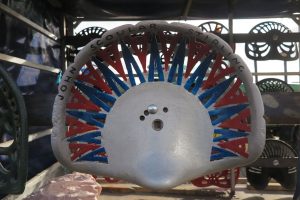 John Scoular was an important implement maker and was also internationally known. By the early 1870s his smithy had expanded into the Crook Implement Works where it became noted for its harrows, rollers, horse rakes and other implements. The trades carried on were as agricultural engineers. agricultural implement makers, engineers and iron founders, machinists, smiths and farriers. The company was a regular exhibitor at the Highland Show, exhibiting from 1871 until 1910. It exhibited around each of the show districts, exposing its implements to farmers throughout Scotland. It was also a regular advertiser in the Scottish farming press, especially the Scottish farmer from 1893 onwards.
The company was also an innovative one. From the early 1880s it was a frequent entrant to the Highland Society's trials of implements and machines. In 1881 it entered at the trial of potato diggers and the trial of turnip lifters. In the following year it entered for the trial of horse rakes. In 1885 it entered for the trial of cultivator harrows as well as implements for the autumn cultivation of stubbles. In 1889, it entered in the trial of hay and straw trussers.
The North British Agriculturist gave a detailed description of John Scoular in 1893. It reads:
"Mr John Scoular is the fourth son of the late David Scoular, the well-known plough maker of Forest Mill, Clackmannanshire. Mr Scowler began business on his own account twenty-seven years ago, and pushed his trade with such energy that his name was soon known in all the principal agricultural districts of Great Britain, including Ireland and the remote islands of Scotland. After establishing a large home trade, he next turned his attention to export business, cultivating it with the same diligence, so that in a few years he formed connections in many different quarters of the globe. In 1881 he was invited by a number of the principal merchants and farmers of Natal, South Africa, to visit their colony and see their ways of cultivation for himself, so that he might better understand their requirements. He accepted the invitation, and on his arrival in Natal he received a warm welcome from his friends there, and profited greatly by his journey. Mr Scoular has also large dealings with the south-east of Europe, and he has travelled seven times there, visiting the extensive wheat plans of Bessarabia, Roumania, Bulgaria and Hungary. He claims he is now the largest harrow maker in Scotland. and there are few counties where his hay rakes cannot be found at work."
If you see the name Scoular around the rally field you will know it is a long established and eminent one!
The photograph was taken at the Daviot vintage rally, September 2018.