Back in the 1950s and 1960s when numerous attempts were being made to mechanise the turnip, potato and sugar beet harvests, one Perthshire firm was to the fore: Boswells of Blairgowrie.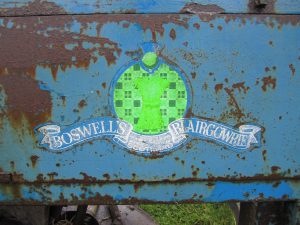 The name Boswells of Blairgowrie, engineers, Rattray, was already known in 1859.  By 1961 the company became known as Boswells of Blairgowrie Ltd.  It developed from another agricultural implement and machinery maker in Blairgowrie: F. M. Fleming & Son, Rattray Engineering Works, which had been established by the late 1920s and by 1954 was owned by James H. Boswell.
The new company was established to undertake a wide range of activities including the trades or businesses of motor car tractor and agricultural machinery agents, agricultural, mechanical, consulting, heating and general engineers' petrol and oil suppliers and retailers; blacksmiths; electricians; ironmongers; dealers and agents for motor cars, tractors, agricultural implements, machinery, tools, petrol and oil and equipment of every description, threshing mills, balers, harvesters, ploughs, harrows, reapers, binders, diggers, sprayers etc.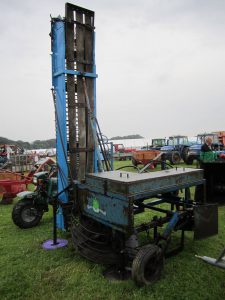 The company, with a nominal capital of £5,000, was for many years a family run one, with its directors being James H. Boswell and his wife Rebecca, amongst other family members.
Boswells of Blairgowrie Ltd built on the earlier activities of Fleming & Son, with its specialities in harvesting, sugar beet, turnip harvesting and potato machinery.  In 1961 it entered for the new implement award at the Highland Show the "Boswell" major sugar beet cleaner.  This was followed in 1863 by the "Bowell" McRobert 8-12 ton per hour pre-cleaner, dresser and grader as well as the Boswell root elevator/loader.  By 1966 the company was able to exhibit its Boswell complete harvester.  It regularly attended the Highland Show, displaying and selling its manufactures to the domestic as well as export markets.
For a rural based business it was an important local employer.  In the mid 1970s it had around 65 employees.
By the mid 1970s there were changes in the company.  In 1975 most of the share capital of the company had been acquired by Elbar Industrial (Scotland) Ltd, whose ultimate holding company was Elbar Industrial limited.  By 1981 the company was no longer trading.
There are still examples of machines from Boswells of Blairgowrie, Boswells of Blairgowrie Ltd, and Elbar, around the Scottish vintage agricultural machinery rally fields.  They come from a company that was well known not only in Perthshire but internationally.  The company's trade logo bears testimony to its Scottish roots and engineering heritage.
The photograph of the Boswell turnip harvester were taken at the New Deer Show, August 2014.
© 2016 Heather Holmes