One of the big names in wrought iron stack stools until the outbreak the First World War was Thomas Gibson & Son, Edinburgh.  The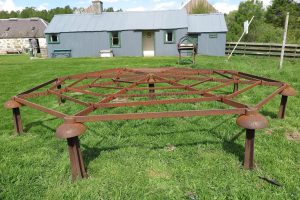 company started as Gibson & Tait, at Bainfield, Fountainbridge, Edinburgh. It was already trading in 1868.  The partnership of J. Charles Tait and Thomas Gibson was dissolved by mutual consent by the partners on 1873.  After that date the business was carried on by Mr Gibson. 
By 1869 Thomas also set up a new company with his son, Thomas, as Thomas Gibson & Son.  It was located at Gibson Terrace, Bainfield, Fountainbridge.  In 1869 it described itself as "iron and wire fence, iron gate, and wire netting manufacturers, wire workers, smiths, engineers and agricultural implement makers".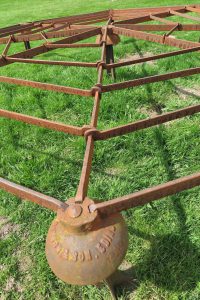 From 1874 to 1914 the company was a regular exhibitor at the Highland Show, also exhibiting in all the show districts throughout Scotland.  It was also an award-winner at that show for its wrought iron field gates, its iron hurdles suited for sheep pens as well as for its general collection of agricultural implements.  Its manufactures included entrance gates, field gates, continuous fences, tree guards, galvanised wire netting, horse rakes, fodder racks, pheasant feeders, poultry feeders, wheel barrows, sack barrows, wire chairs, garden seats, flower tables, and potato baskets.
By 1875 the company was making its wrought iron corn rick stands. These were a framework of iron spars which interlocked together in an octagonal shape which had a stool at each corner and one in the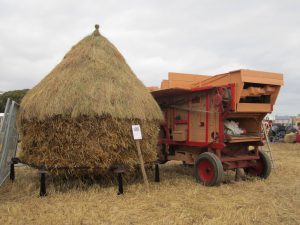 centre.  The stools were designed to ensure that rats did not climb up them: they were mushroom shaped with an overhang which was to be difficult for rats to climb over.  They were made in a number of sizes (as were those from other makers).  It continued to make a selection of them until 1919.
If you see wrought iron rick stands you will usually see the maker's name on the top of each stool.  Other makers included Thomas Pearson & Co., Queen Street, Glasgow, one of the largest makers in the world.
The photographs of the Gibson corn rick stand were taken at the Highland Folk Museum, Newtonmore.  The display at the Strathnairn Farmers Association Working Vintage Rally & Display, September 2014, shows a stack built on a wrought iron rick stand.
© 2016 Heather Holmes