During the summer months there were plenty of jobs to do on the farm to keep it looking trim. This included keeping down weeds, including thistles. On some farms bracken could be a problem. Both were not the easiest to remove. Hand tools were available to take out thistles in pasture. These enabled the thistle to be pulled out at ground level. Mechanical means were much more efficient.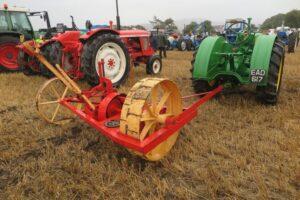 By 1952 farmers could buy a number of machines to cut bracken and thistles. The Farm Mechanization Directory of that year lists 6 makers, of which three are Scottish. Two are well known makers of implements and machines: J. Bisset & Sons Ltd, Greenbank Works, Blairgowrie, and the other James A. Cuthbertson Ltd, Station Road, Biggar. The third was more locally known: G. C. Irving, Main Street, Castle Douglas, Kirkcudbrightshire.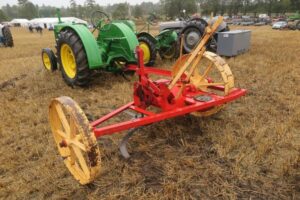 The machines made by Bisset and Cuthbertson were both tractor drawn. The one made by Bisset was of a horizontal rotary propellor type and landwheel driven. It could be used for bracken, thistles and other weeds. Cuthbertson made a multi-wheel cutter machine which was adaptable to undulations of the ground. The one made by Irving was a self-propelled machine. It was a self-propelled machine, with the operator walking behind it. It was powered by a Villiers engine and had a 4ft wide cutter bar.
English machines were made by W. M. Brenton, East Cornwell Iron Works, Torpoint, Cornwall, Crawford, Prince & Johnston Ltd, Syston, Leicestershire and R. S. Warren, Covert Lane, Scraptoft, Thurnby, Leicester.