Implement makers and their premises in the mid nineteenth century
I am always interested to find accounts of what the premises of our Scottish agricultural implement and machine makers look like. ScotlandsPlaces website includes the Ordnance Survey Namebooks which provide information about place and building names at the time that the Ordnance Survey was undertaking its first edition maps between the mid 1850s to the mid 1860s. Each county was surveyed at different times within this period with those of East Lothian, Fife and Kinross being early ones and Inverness-shire, Aberdeenshire and Orkney being among some of the later ones.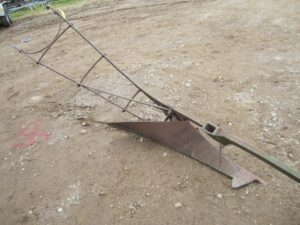 The Namebooks provide a snapshot at the premises of the Scottish agricultural implement and machine makers at a time when the sector was changing rapidly and the number of new businesses increasing rapidly. For some of them, it shows their trades and premises before they became closely associated with the making of agricultural implements and machines. For example, in Maybole, Ayrshire, where Alexander Jack set up business, the Namebook records that between 1855-57 there was a sawmill – "Recently built and carried on by Mr A. Jack-a very extensive sawmill with a large storeroom and engine [house] connected to it – one of the houses [three,] the other two storey slated and in excellent repair – saws driven by an engine 10 horse power- Property of A. Jack."
There are relatively few premises in Scotland that were recorded as an "agricultural implement" manufactory or premises. One of them was in the parish of Huntly, Aberdeenshire: the "Agricultural Implement Works" at Factory Brae. This was "a large block of buildings in which are manufactured ploughs, harrows, and various other agricultural implements. Messrs Sellar & Son, proprietors." By that time the ploughs and other manufactures of George Sellar & Son were well known in Scotland and further afield.
There is another "Agricultural Implement Manufactory" in Shettleston Parish, recorded between 1858 to 1861. It was occupied by Law, Duncan & Co. It comprised: "long rows of houses used as workshops, & having a yard attached. Every description of Agricultural Implements are made here, including Ploughs, Harrows, Thrashing Machines, Shovels, Spades &c. Also every description of wooden materials used for Agricultural purposes. Engine Boilers are also made, but only when specially ordered. The principal & almost sole trade being Agricultural Implements.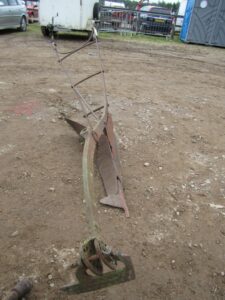 The largest number of references to "agricultural implement" works was in Lanarkshire, in the parish of Bothwell. These names were collected between 1858 and 1861. These related to two businesses and to three implement manufactories: those relating to J. Gray & Co., J. Hornall, and those of J. Waddell & Sons of Crofthead which had been used by John Wilkie of the famous Wilkie plough fame. Here is what the Name Books state about the premises:
1. Near Townhead: Agricultural Implement Manufactory, "A large house made of zinc & iron having skylights in the roof. There is a large yard connected with it & having Tram Road" joining from the "Clydesdale Junction Railway". Every description of Agricultural Implements are made here- both wood & iron. Locomotives are also made, but they are for agricultural purposes. Wrought by the Proprietor in Company with others.- J. Gray & Co.
2. Agricultural implement Manufactory "A Manufactory for producing all descriptions of implements used in Agriculture. This same factory was famous in the County for its style of implements under the late Mr Wilkie. It was partly burned recently & is at present idle. The property of J. Waddell & Sons of Crofthead".
Crofthead "A superior house having several dwellings in the same property, as well as an Agricultural Implement Manufactory, belonging to & partly occupied by Mr J. Waddell. The name is well known. The garden of Crofthead is on the opposite side of the Road-the west."
3. Agricultural implement Manufactory "A Manufactory for making all kinds of Agricultural Implements. [ ] let by J. Hornall, the propert[] of Mr Gray. There is a long wooden shed here for sawing timber in."
The Name Books remind us of the importance of local history in looking at the Scottish agricultural implement makers and the need to link people and place. A new study that does this really well is A. M. Findlay's, The Wilkie Plough, as part of her research into the Wilkie family of Uddingston, Lanarkshire. It tells the story of the development in its local setting of John Wilkie whose Wilkie plough became known throughout Scotland and much wider. The Wilkie Plough was an important part of the Agricultural Revolution of the late eighteenth and early nineteenth century and a key plough in the development of ploughs and ploughing in Scotland and further afield. Copies are available on Amazon or through A. M. Findlay at uddingstonfolk@gmail.com.
https://www.amazon.co.uk/Wilkie-Plough-Crofth…/…/ref=sr_1_1…
Source: The photograph of the Gray of Uddingston plough was taken at the Scottish National Tractor Show, September 2013.