A number of trade directories provide information on the agricultural implement and machine makers and their activities. One directory from 1951 – The Scottish National Register of Classified Trades includes a detailed supplement of agricultural businesses. These include the agricultural implement makers. There are also lists of tractor dealers, dairies, dairy implement makers as well as agricultural engineers.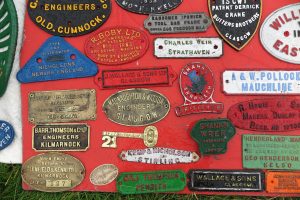 The following is the list of agricultural implement and machine makers. It is one of the most comprehensive lists I have seen. I quote it at length to give a good idea of who was in business and the wide range of businesses and locations throughout Scotland. There are a good number that started in business in the mid to late nineteenth century. Another group started in the early 1920s with the increasing use of tractors and cars – some car garages also started to sell and service tractors.
How many names do you recollect?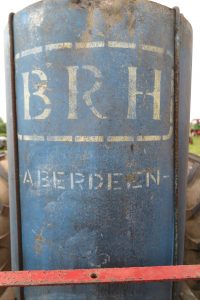 J. R. Adamson, 34 High Street, Blairgowrie
Agricultural Industry Development Co. (Inverness) Ltd, 16 Telford Street, Inverness
Aird Engineering Co. Ltd, Beauly
William Alexander (agent for all leading makers of agricultural machinery), Ruther, Watten, Caithness
Alexanders of Edinburgh Ltd, Semple Street, Edinburgh
Allan Bros. (Aberdeen) Ltd, thrashing machines, Back Hilton Road, Aberdeen
Ayling McLean & Co. Ltd, Rochsolloch Road, Airdrie
A. Baird & Sons Ltd, Pleasance Implement Works, Dumfries
George Baird, Avon Place, Linlithgow
J. L. & J. Ballach, Gorgie Implement Works, Edinburgh
Banff Foundry & Engineering Co. Ltd, agricultural implements and machinery makers and exporters, Banff Foundry, Banff
Barclay, Ross & Hutchison, 67-71 The Green, Aberdeen; 56 Castle Street, Forfar; 39 High Street, Montrose, Glasgow Road, Perth
Barford (Agricultural) Ltd, Mount Harriet Stepps, near Glasgow
R. Begg & Sons, Implement Works, Dalry
James Borland & Sons Ltd, 9 St Marnock Street, Kilmarnock
Harry K. Brown (Motors) Ltd, Raith Motor Works,Nicol Street, Kirkcaldy
George Bruce & Co., 14 Regent Quay, Aberdeen
Cairns & Souter, Strathearn Engineering Works, Crieff
John Cameron Ltd, 84 High Street, Maybole
Central Motors (St Andrews) Ltd, 106-108 South Street, St Andrews
Chapman of Inverness Ltd, 49 Eastgate, Inverness
Clockmill Engineering Co., Cammon Foundry, Duns
James W. Cobban, specialist in haymaking machinery, carts and bodies, Union Works, Inverurie
James Cowie & Co., 4 Dunlop Street, Strathaven
James Crichton, Chapel Street, Turriff
Cumming & Dempster, Dee Street, Banchory
James Cuthbert & Co., 8-12 Commerce Street, Arbroath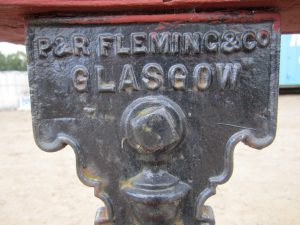 Dairy Equipment and Supplies, 22 Baker Street, Stirling
Dalblair Motors Ltd, 44 Dalblair Road, Ayr
Wm Dickie & Sons Ltd, Victoria Works, East Kilbride
John Doe Ltd, Errol, Perthshire
Wm Donaldson (Engineers) Ltd, Bridge Street, Linwood, Paisley
G. B. Drape, St John's, Whithorn
Thomas Duff & Son (Annan) Ltd, High Street, Annan
A. Duff & Sons, Forth Street, Stirling
The Dunlop Motor Co. Ltd, 30 Grange Street, Kilmarnock
Adam Duthie & Co. Ltd, Tarves, Aberdeenshire
Ednie & Kininmonth, 14 Castle Street, Forfar
William Elder & Sons Ltd, Tweedside Works, Betwick on Tweed
Elgin Central Garahe Ltd, Fordson Main dealers for NW Banff, Moray and Nairn, High Street, and Hill Street, Elgin
Errington Ross & Co., Castle Heather Works, Inverness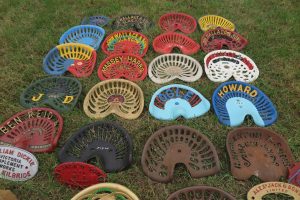 J. D. Falla & Son, Bonchester Bridge, Hawick
Ferguson & Hood, 28 Swan Street, Brechin
James Ferries & Co. Ltd, 86 Eastgate, Inverness
P. & R. Fleming & Co., 367 Alexandra Parade, Glasgow and 32 and 52 Keith Street, Partick, Glasgow
George Fowler & Sons, East End Garage, North Berwick
Fraser & McColl, Eastgate, Inverness
Frew & Co. Ltd, 14 Princes Street, Perth
C. S. Fillerton, Ferndene, Carmyllie, by Arbroath
R. G. Garvie & Sons, 2 Canal Road, Aberdeen
W. & A. Geddes Ltd, High Street, Wick
W. Gibson & Co., 62 George Street, Whithorn
Gillies & Henderson, 59 Bread Street, Edinburgh
D. R. Gordon Ltd, 30-40 Hopetoun Street, Bathgate
Gordon & Innes, 69-71 Bogin Street, Huntly
James Gordon & Co., Newmarket Street, Castle Douglas
J. Graham & Sons, Millhousebridge, Lockerbie
E. A. Grant, Standfast Works, Craigellachie, Banffshire
William F. Grant & Son, Ashgrove, Elgin
Grassick's garage Ltd, Commercial Street, Blairgowrie
Eddie T. Y. Gray, Fairbank Works, Fetterangus, Mintlaw Station, Aberdeenshire
James Gray, 138-140 High Street, Laurencekirk
James Gray & Co., 7 Upper Craigs, Stirling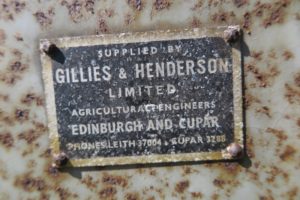 Hamilton, Anderson & Co., Goatfield Haddington
D. Hamilton & Sons, Townfield, Haddington
John Harkness & Son, Newfield Burn Works, Ruthwell, by Dumfries
John Harper & Sons, Perth Street, Blairgowrie
Harper Motor Co. Ltd, Holburn Junction, Aberdeen
Henry Harrower, Luggateburn, Haddington
George Henderson Ltd, East Bowmount Street, Kelso, 18 Forth Street, Edinburgh
Hillside Foundry & Engineering Co. (Cupar) Ltd, Hillside Foundry, Cupar, Fife
Howe Agricultural & Engineering Co., Mundamallo, Newtyle
Inverness Motor Co. Ltd, Strothers Lane, Inverness
David Irons & Sons, 22 Castle Street, Forfar
G. C. Irving, Main Street, Dalry, Kirkcudbright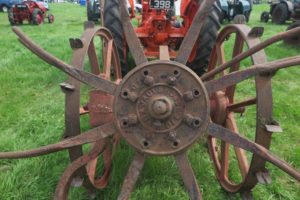 Alex Jack & Sons Lt, Maybole, Ayrshire
James Jack, Hyndford Place, Lanark
Jack & Renwick Ltd, West Silvermills Lane, Edinburgh
Jeffrey Bros, Townfoot, Langholm
Geo. W. King, Ltd, specialists in chaff cutters, binder canvasses, grain and pea lifters, bush pullers, wire strainers, sack lifters, pneumatic grain storage and conveying plamt, ropelock pulley blocks, byre fittings, 153 Oxford Street, Glasgow
Ladyacre Engineering Co. Ltd, Ladyacre Road, Lanark
L. O. Tractors Ltd, Coronation Works, Coupar Angus, Perthshire
Leslie McRobert Ltd, makers of threshers and potato sorters, Schoolhill Works, Turriff
John Limond, Viewfield Road, Ayr
Lindsay & Co., 14-18 Rotterdam Street, Thurso
Lyon Brothers, 22 Oldmeldrum Road, Bucksburn, Aberdeen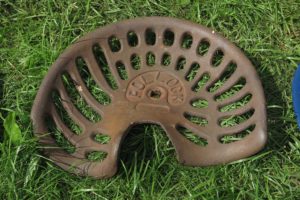 John McBain & Son Ltd, Churnside, Duns
Alex McCutchion, Auction Mart, Falkirk
James Macdonald, 105 West Port, Edinburgh
McDougall Duncan Ltd, Royal Hotel Buildings, Oban
James McHarrie (Stranraer) Ltd, 8 Strand Street, Stranraer
Alexander S. McIntosh, The Garage, kennethmount, by Huntly,
Mackay & Jardine Ltd, West Cross, Wishaw
Alex Mckenzie & Son, Achnagarron, by Invergordon
Kenneth McKenzie & Sons, Evanton, Ross-shire
Pat McKenzie, 131 High Street, Forres
James Mackintosh, Angus Engineering Works, Don Street, Forfar
Macknight (Motors) Ltd, York House, Dumfries
George McLean Ltd, 30 Ward Road, Dundee
George MacLeod, specialists in horticultural tractors and cultivators, 110 Candleriggs, Glasgow
James McLeod & Son, Clyde Garage, Glasgow Road, Uddingston
John Macleod & Son, Evelix, Dornoch
MacNeill Tractors Ltd, 20 Graham Square, Glasgow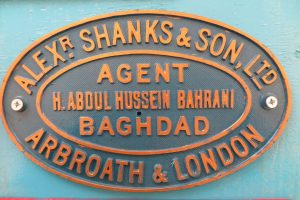 Benjamin Main & Son, 4 Stormont Street, Perth
Hugh Martin & Co. Ltd, 55-63 Washington Street, Glasgow
James Martin (kirkintilloch) Ltd, Kelvin Valley Works, Kirkintilloch
A. C. Mathers, 97 Muirton Place, Perth
Massey-Harris Limited, Kilmarnock, Ayrshire; head office, Barton Road, Manchester
J. M. Millar Ltd, Callendar Road Garage, Falkirk
A. T. Mungall Ltd, Castle Street, Forfar
William Munro, Royal Hotel Garage, Invergordon
Alex Newlands & Sons, Linlithgow, West Lothian
James F. Ogg, Bridge of Muchalls, Stonehaven
Olympia Garage, Kittybrewster, Aberdeen
John Oswald & Son, Damacre Road, Brechin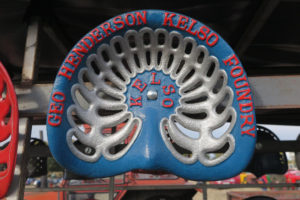 Paisley Motor Co. Ltd, 85 Causeyside Street, Paisley
A & W. Pollock, Station Road, Mauchline, Ayrshire
Ramsay & Wyllie, Townfoot, Elsrickle, Biggar
Reekie Engineering Co. Ltd, Lochlands Works, Arbroath; and at Redmyre Farm Depot, Fordoun
Allan W. Reid (Ayr) Ltd, Main Roads, Whitletts Road, Ayr
William Reid (Forres) Ltd, St Catherine's Road, Forres
Wm. Reid & Leys, 8 Hadden Street, Aberdeen
Rogerson & Jamieson, 23-25 High Street, Lockerbie
G. A. Ross & Co., Friockheim, Forfarshire
Neil Ross, Bridge Street, Ellon, Aberdeenshire and at Greyfriars Street, Elgin
A. M. Russell Ltd, agricultural implements, Sinton Works, Gorgie Road, Edinburgh
John Rutherford & Sons Ltd, Coldstream, Earlston, St Boswells, and Kelso
John Scarth, Ayre Road, Kirkwall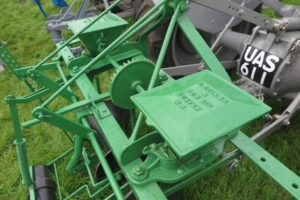 Alexander Scott, Caledonian Implement Works, St Ninian's, Stirling
Alexander Scott, Crossgatehall, Dalkeith
Henry Scott & Son, 24 Chapel Street, Airdrie
Scottish Farm Implements Ltd, Crosshouse, Kilmarnock
A & J. Scoular, Main Street, Thornhill, by Stirling
Geo. Sellar & Son Ltd, head office, 30 Great Northern Road, Aberdeen, works – Kelliebank, Alloa; branches, Granary Street, Huntly and Victoria Street, Perth
Shepherd's Engineering & Blacksmith Work, Harbour Place, Wick
Thos. Sherriff & Co., West Barns, Dunbar
A. Simpson & Son, Clerk Street, Brechin
Thomas Sinclair, Reston, Berwickshire
A. Simpson & Son, Clerk Street, Brechin
Thomas Sinclair, Reston, Berwickshire
Peter Small, 15 Queen Street, Forfar
J. B. W. Smith Ltd, Cupar, Fife
W. Smith & Son Ltd, Market Street, Aberdeen
James H. Steele Ltd, "Everything for the Farm", agricultural engineers and millwrights, 61 Harrison Road, Edinburgh; Assembly and service depot: Gray's Mill Engineering Works, Longstone Road, Edinburgh
Stirling Implements Ltd (agents for James H. Steele Ltd), Field Marshall, Fowler and M. M. Tractors, Land Rollers, Combines &c, 28 Orchard Place, Stirling
Alex Strang (Tractors) Ltd, Pipe Street, Portobello
W. D. Syme, Ferguson & Hood 21-23 Hugh Street, Brechin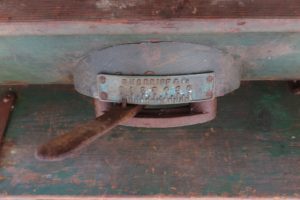 J. & W. Tait, Broad Street, Kirkwall
Thomson Bros (Kirkcaldy) Ltd, 238 High Street, Kirkcaldy
Thurso Engineering & Foundry Co. Ltd, Millbank Works, Thurso
Tullos Ltd, manufacturers of agricultural implements and machinery, including threshers, sheaf loaders, manure distributors, car trailers, power mowers. Potato front coverers, potato sorters, hay sweeps, Aberdeen
Alexander Waddell, 47 and 49 Wesleyan Street, Glasgow
Fred Walker, The Garage, Fettercairn, Laurencekirk
J. Wallace & Sons (Ayr) Ltd, Smith Street, Ayr
John Wallace & Sons Ltd, 34 Paton Street, Glashow
Wm Wallace & Son, 36 Kyle Street, Ayr
J. S. Webb & Son, Edina Cottage, Dechmont, Broxburn
James M. Wells, 14-16 English Street, Annan
E. Whitelaw & Son, Gladsmuir, Tranent, Longniddry
James Wilson, 77 Hammerfield Avenue, Avenue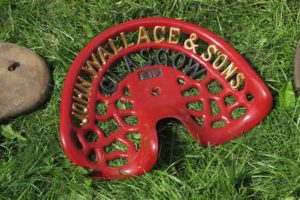 A decade later this list was to change significantly.