B is for …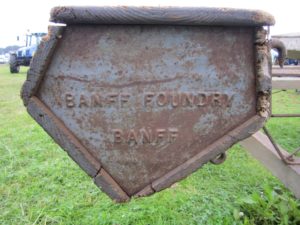 William Bain & Co. Ltd, Lochrin Iron Works, Coatbridge, Lanarkshire
Alex Baird & Sons, agricultural engineers, Annan, Dumfriesshire
Robert Baird, Avenue Square, Stewarton, Ayrshire
J. L. & J. Ballach, agricultural implement makers, Gorgie, Edinburgh
Balmoral Engineering Works Co., Nelson Street, Tayport, Fife
Banff Foundry & Engineering Co. Ltd, Banff foundry, Banff
George Bannerman, Causewayend, Coupar Angus, Perthshire
Barclay, Ross & Tough, Balmoral Buildings, 67-71, Green, Aberdeen, and Craigshaw, Aberdeen
George Barker, Tay Iron Works, Market Street, and New Row, Perth (agents for the best makes of agricultural implements)
John Barrowman & Co., Saline, Dunfermline, Fife
George Baxter, Milnathort, Kinross-shire
Alexander Beaton, implement maker, 77 Powis Terrace, Aberdeen
Robert Begg & Sons, Dalry, Ayrshire
Thomas Begg, Cubrieshaw Street, West Kilbride, Ayrshire
Mrs Margaret Bertram, Edgehead, Cranston, Dalkeith, Midlothian
J. Bisset & Sons Ltd, Blairgowrie, Perthshire
Lennox M. Blyth, Cintra Engineering Works, Chirnside, Berwickshire
Robert Blyth, implement maker, Monifieth, Dundee
B. M. B. Ltd, agricultural engineers, Hawkshead Road, Paisley, Renfrewshire Bon-Accord Engineering Co. Ltd, Bon Accord Works, Aberdeen
Boswells of Blairgowrie, engineers, Rattray, Blairgowrie, Perthshire
Bowen agricultural Limited, Stenhouse, Mill Lane, Edinburgh, branch, Dunbar Road, East Linton
A. Boyd & Sons, Noblehill, Dumfries
Robert Boyd, Reidhaven Street, Keith, Banffshire
David Braid, Bridge End, Freuchie, Fife
J. & A. Bridges, Rosehall Works, Haddington, East Lothian
David Brown & Sons, Peterculter, Aberdeenshire
James Brown & Sons (ploughs, turnip sowers and harrows), Peterculter, Aberdeenshire
Thomas Brown & Sons, Cammo Foundry, Dunse, Berwickshire
Brownlie & Murray Ltd, iron roof and bridge builders and structural engineers, Possil Iron Works, Possilpark, Glasgow
J. D. Bryan, Culthill Implement Works, Murthly, Perthshire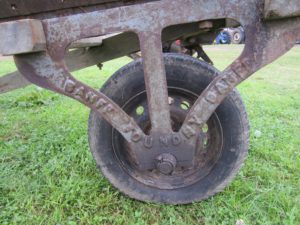 These are only some of the makers whose surname starts with the letter B. Some readers will recognize a number of these names. Others will be less familiar.
One of the very-well known names is Banff Foundry & Engineering Co. Ltd, Banff foundry, Banff. The Banff Foundry had been the home of the earlier well-known companies of Watson Brothers (1898 to 1924) and G. W. Murray (1820 to1897), well-known for its ploughs, thrashing and sowing machines.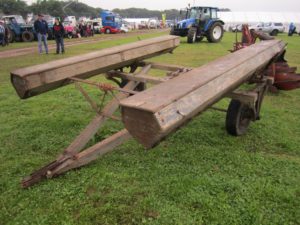 The Banff Foundry (Banff Foundry & Engineering Co., Limited) was an agricultural implement maker, mechanical engineer and ironfounder that continued in business from 1924 to 1951. Its letterhead noted Banff Foundry & Engineering Co., Ltd, agricultural implement makers and engineers, incorporating G. W. Murray & Watson Bros. est. 1820. Its activities were largely focused in the north-east: it only exhibited at the Royal Highland Show when it visited the Aberdeen and Inverness show districts in 1927, 1928, 1932, 1935 and 1951. Its manufacturers included reapers, turnip drills, field rollers & harrows.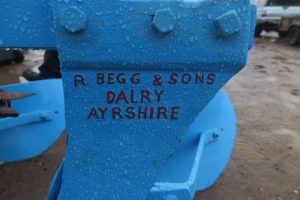 Another well-known works was the Rosehall Works, Haddington. In 1854 the occupier of the works was Thomas Halliday, an ironfounder, mechanical engineer and millwright who manufactured implements such as reapers and mowers. On 6 October 1886 the North British Agriculturist noted that J. & A. Bridges, millwright and engineer, North Berwick, have bought the premises of Mr Halliday, Rosehall Foundry, Haddington, where they intend to carry on the business in connection with their old-established works in North Berwick.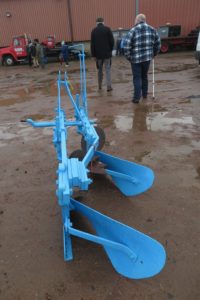 J. & A. Bridges of Haddington and North Berwick had their business at the Rosehall Works from 1886 to 1909. Its trades included: agricultural implement maker (1886-1909), engineer (1900), engineer, ironfounder and millwright (1897), ironfounder (1886-1909), mechanical engineer (1886-1909), millwright (1886-1909), steam engine boiler manufacturer (1897-1905), steam engine maker – fixed (1890-1905), and turbine maker (1890). Its manufactures included thrashing machines, reapers, and mowers.
By 1948 the Rosehall Works was occupied by Scottish Agricultural Industries Ltd. Photographs of the Works in the mid 1980s can be seen on the Canmore website at: https://canmore.org.uk/…/haddington-rosehall-rosehall-found…