What was new in Scottish implements and machines in 1920?
If you were a farmer in 1920 (as today) and wanted to see the latest agricultural implements and machines you would have a good look around the Highland Show. The Highland Show in 1920 was the 89th Show of the Highland and Agricultural Society of Scotland. It was held in Aberdeen, one of the smaller show districts, where there were generally fewer exhibitors from the south of Scotland and England.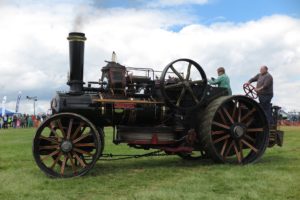 At the Show The Scotsman newspaper reported that "Most of the leading manufacturers and agents have their usual stands, and agricultural visitors to the show will find much to interest them, while a tour of this section by townspeople will serve to demonstrate to them the great variety of labour-saving machines now in use in the cultivation of the soil."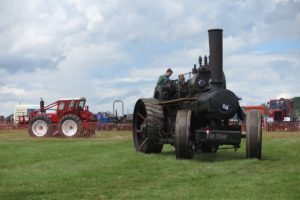 Particular implements and machines at the show included, according to The Scotsman:
Scottish Motor Traction Company's Display. The Scottish Motor Traction Company (Ltd), Edinburgh and Glasgow, have an attractive exhibition of farm tractors and engines. The agricultural tractors shown are the well-known "Titan" and "International Junior", two of each variety being on view, the former of 23b.h.p. and the latter of 25.6hp. Both machines have proved their worth during recent years, and their versatility is displayed in various forms. These tractors are manufactured by the International Harvester Company of Great Britain (Ltd), whose paraffin engines and other agricultural implements are also on view. Two specially interesting productions are the "International Hamilton", three-furrow and two-furrow power life tractor ploughs fitted with general purpose boards and rolling disc coulters. There is also a tractor trailer with plain platform and a tool-box trailer for tractors, with drums for fuel and water, large tool box, and seating accommodation for two persons. The Company hold numerous agencies for private motor cars of first class design and manufacture, and also supply commercial motor vehicles of the latest and most approved models.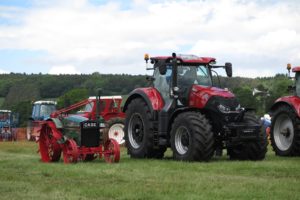 Messrs Barclay, Ross & Hutchison Ltd, Aberdeen, have an extensive collection of agricultural implements forward, such as oil engines, mowers and reapers. Cultivators, potato diggers, horse rakes and spraying outfits. A specimen of the "Austin" tractor is also on view, as well as a portable thresher specially suited for tractor use, and a double sack lifter, which is entered as a new implement.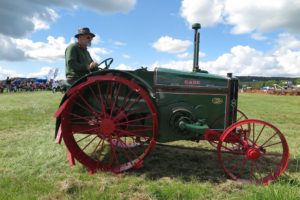 The display of implements by Mr James H. Steel, Edinburgh, is one of the most attractive and comprehensive in the yard. Over 50 separate articles are on view, comprising the productions of such noted firms as Messrs Ruston & Hornsby (Ltd), Harrison, McGregor & Co. (Ltd), Ransomes, Sims, & Jefferies (Ltd), and others. Tractor owners will no doubt be particularly interested in a new patent expanding tractor land roller, made by Messrs Ogle & Sons, It is the only one of the kind on view, and is an implement which should fill a long felt want. To mention only a few of the other outstanding exhibits, there is also a Cooper-Stewart two unit sheep shearing machine for power, a Phoenix potato sorter driven by a small petrol engine, with elevator, attached for delivering cut roots into boxes, and a portable turnip cleaner and cutter. The latter is entered as a new implement, an is produced by Mr Kenneth McKenzie, engineer, Evanton, Ross-shire.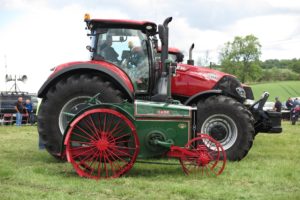 The well-known form of Messrs John Wallace & Sons (Ltd), Glasgow, are exhibiting a large assortment of farm implements. For potato growers, Messrs Wallace have several labour-saving machines, including the Richmond two row potato planter, a one row potato planter and manure sower, and a potato digger with eight adjustable graipes. Specimens of the "Thistle" mower and reaper are shown, as well as many other items of proved efficiency, including the famous "Oliver" chilled ploughs, of which there is a specially attractive display.
The "Glasgow" tractor. The "Glasgow" farm tractor, manufactured by the Wallace Farm Implements (Ltd), Cardonald, is on view at the stand of the British Motor Trading Corporation (Ltd), 50 pall mall, London. This tractor has rapidly gained the confidence of farmers, and it is in exceptional demand. Two new features are embodied in the equipment of the specimens forward-viz,-a paraffin vaporizer and pressed steel front wheels. One of the main points in the tractor, and on which its success depends to a great extent, is the fact that all three wheels are drive wheels, which prevents skidding. The stand also contains "Oliver" ploughs, disc harrows, and grubbers, also manufactured by the Wallace Farm Implements, and adapted for tractor work.
Other Scottish exhibitors.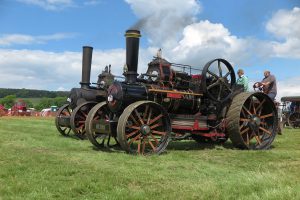 Messrs C. F. Wilson & Co., Aberdeen, show a number of the noted "Wilson" oil engines of varying horse power. Oil engines of the latest improved lampless type, and especially designed for agricultural purposes, form the chief feature of the stand occupied by Messrs Allan Brothers, Ashgrove Works, Aberdeen. Messrs Wm Dickie & Sons, East Kilbride, have a representative display, rick-lifters and windmills being as usual the outstanding features. On the adjoining stand will be found a large assortment of engines and farm machinery, shown by Messrs H. W. Mathers & Son, Perth. A new implement can be seen here in the form of a portable engine driven turnip cutter of the horizontal type. Three stationary oil engines are exposed by Messrs Alex Shanks & Son (Limited), Arbroath; while Messrs Fleming & Co., Robertson Street, Glasgow, have a fairly extensive display of accessories for tractors and steam road rollers, and road-making plant, a five ton-tripping tractor wagon, stone-breakers, concrete mixers, rock drills, air compressors, and blasting outfits.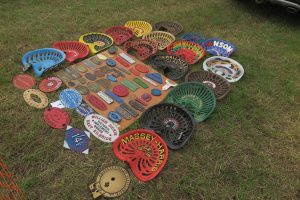 A new implement in the form of a self-lifting cultivator suitable for tractor or horse power is entered by Messrs McBain Bros (Limited). Berwick on Tweed. Messrs J. & R. Wallace, Castle Douglas, show three of their motor productions, including two specimens of the "universal" artificial manure distributors, and the "Royal Medal" milking machine, which won the RASE Silver Medal in 1905, which is now fitted with an improved pulsator requiring no oil. Portable and stationary threshers and oil engines are compassed in the exhibit of the Bon Accord Engineering Company, Aberdeen, and in that of Messrs W. & S. Pollock, Glasgow, oil engines are the chief feature. The noted firm of Messrs P. & R. Fleming, Glasgow, have their customary extensive display of farm implements, as also have Messrs Garvie & Sons, Aberdeen, who make feature of their threshing outfits. Messrs John Millar & Son, Annan, display their well-known "Samson" windmill, also engine, pumps, and churns. Articles of the same nature are on view at the stand of Messrs John McBain & Son, Chirnside. Messrs R. Tough & Sons, Aberdeen, have a varied collection of implements, while oil engines in great variety are shown on the stand of Messrs Vickers-Petters (Limited) and Petters (Limited), Glasgow.
The photos show forms of motive power from 1917 and 1918 at the Fife Vintage Rally, June 2017.