As it would have been the time of the Highland Show, let's look back at past shows and the implements and machines exhibited at them.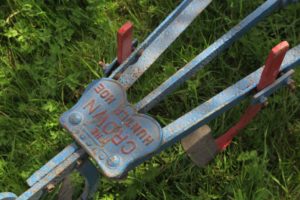 The Highland Show was an important forum for the exhibition of implements and machines made by Scottish and other makers, usually from England. It gave makers an opportunity to see what they were making, what was their latest developments and innovations. It allowed makers to reach a large audience, especially if they were coming from a distance to the show.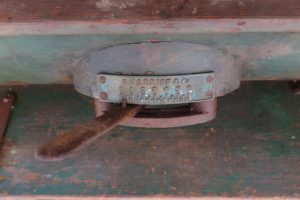 Before 1860 the Highland Show travelled around Scotland in turn to each of the teight show districts. In1865 the Show was at Inverness, the Show District for the north of Scotland and surrounding area. The largest number of the implement and machinery exhibitors were from this and neighbouring Show Districts. However, there were also others who came from a much wider area of Scotland, looking to expand their customer base and show what they had to offer. These makers included some of the well-known and renowned makers who had a reputation throughout Scotland. There were some English makers, but they had a considerable distance to travel to the show.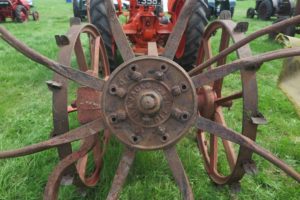 The exhibition of implements and machines at the Highland Show was widely reported in the local, regional and agricultural press. This is what the North British Agriculturist, the major Scottish newspaper wrote about the Inverness Show in 1865: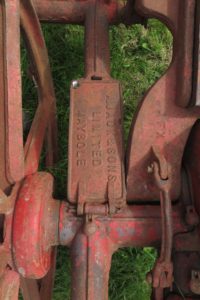 "Implement department
The implement department is not imposing, there being none of the complicated and more expensive machines which are so attractive to the ordinary visitor. There is no machinery in motion. The articles are arranged in rows, part being displayed under wooden sheds, and part without any protection. The more eminent English makers are not patronising the present exhibition of the Highland Society. Doubtless the distance from the seat of their manufacturers, and the number of orders which still remain unexecuted, are the causes which have influenced implement makers in withholding contributions to the present show. There are, however, in several of the stands implement and machines from English manufacturers. It does not argue well for the estimation in which the farming of the north of Scotland is held that there is only one portable steam-engine in the yard, exhibited by Williamson Brothers, Canal Iron Works, Kendal, who also exhibit a combined thrashing machine, a turbine water wheel, and a centrifugal pump. The implements which are shown in the greatest numbers are ploughs, harrows, and reaping machines. Mr Allan, Culthill, Dunkeld, shows several well constructed ploughs and horse shows, with two turnip sowing machines.
Messrs Brigham & Bickerton, Berwick, exhibit several of their well-known excellent reaping-machines. Messrs Jack & Son, Maybole, show a Hussey's reaper, a Buckeye combined reaper and mower, and other articles. Messrs Law, Duncan & Co., Shettleston, have a potato-digger, a patent reaping-machine, a subsoil plough, &c. Sir John P. Ord of Kilmory, Bart, shows a horse collar made of bent grass, and matting of the same material-both very cheap and good. Mr Rawdin, Jedburgh, exhibits dipping tubs for dressing sheep. Mr John Richardson shows specimens of his well-known fanners. Riches & Watts, Norwich, an American grist and corn-grinding mill. Messrs Richmond & Chandler, Manchester, have an excellent assortment of chaff-cutters and other food-preparing machines, which are now, we are glad to say, being better understood and appreciated by farmers in Scotland. Mr Ross, Cullen, shows a very good plough and turnip-sowing machine. The Singer Manufacturing Co., Dundee, exhibit several sewing machines. Mr W. Kennedy, 182 Princes Street, Edinburgh, shows a splendid collection of these useful and popular articles.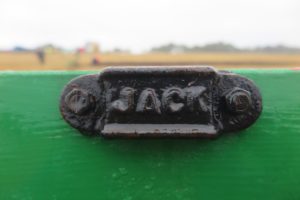 Messrs J. & T. Young. Vulcan Foundry, Ayr, exhibit good combined reaping and owing machines; one, being adapted for one horse, is said to have proved a very great success. The same firm has also several other articles useful in the farm and the dairy. Messrs Kemp, Murray, & Nicholson have an extensive collection of food-preparing machines, reapers, horse-rakes, rollers, grubbers, harrows, garden seeds, &c. Messrs Morton of Liverpool have a varied and extensive collection of galvanised iron and wire fencing, along with models of buildings in corrugated iron. Messrs Picksley, Sims, & Co., Leigh, show an unusually large collection of food-preparing machines, troughs, bone-mills, rakes, reaping machines, lawn mowers, garden seats, &c; along with an excellent collection of superior American cast steel hay and manure forks.
Mr John Pringle, Berwick, Kelso, and Edinburgh, has a very extensive and well-assorted collection of implements, consists of several patent reaping and mowing machines, food-preparing machines, harrows of various forms, a number of corn-screws, wire netting, sheep troughs &c. Mesrs Benjamin Reid & Co., Aberdeen, exhibit their 4-inch row drilling machines, a number of food-preparing machines, Howard's ploughs and rakes, Cambridge's clod crushers, Shank's mowing machines, Jebb's patent tubular churn (a new invention which is attracting a considerable amount of attention from the short time in which butter is produced), &c.
Messrs Davie, Brown, & Young, Stirling, exhibited reaping machines, a land roller, and a turnip slicer. Mr Forbes, Inverness, shows reapers, turnip cutters, and corn crushers. Mr Finlayson, Arbroath, exhibits a large self delivery reaper, which is stated to be of radical improvement. Captain Fraser of Balnain, shows a cumbrous looking machine for making peats, a primitive plough for clearing snow off hill pastures, and a still more primitive looking harrow for the same purpose. Messrs Hudspith & Co., Motherwell, show pipes and collars, bricks, &c. Mr Hunter, Maybole, displays a new turnip cleaner, ploughs, grubbers, harrows, &c. Mr Kirkwood, Tranent, has an ordinary two-horse plough, the Tweedale ploughs, grubbers, harrows, &c. Mr William Kirkwood, Duddingston Mills, Edinburgh, exhibits a new two-horse grubber, a potato lifter, a Norwegian harrow, horse rakes, &c. Messrs Mcgregory & Humphreys, Aberdeen, exhibit their well-known ploughs, besides horse rakes, harrows &c. Messrs Main, Kempt & Co., Glasgow, have an extensive collection of rick stands, fencing, hurdles, field gates, sheep netting, field gates, chairs &c. Messrs Middleton & Co., Edinburgh, exhibit their wire fencing with pillars and stays, garden stats, galvanised wire netting, hurdles &c. Mr Mitchell, Peterhead, has in his stand a one-horse cart, drill sowing machines, harrows, and rollers. Mr Robson, Glasgow, exhibits a number of articles made of fireclay, such as cattle troughs, wall coping, ridging, sewage pipes, &c. Messrs Sellar & Son, Huntly, have a large assortment of ploughs and harrows.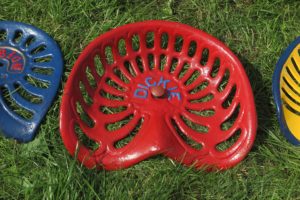 Mr Wilson, Loanhead Works, Dunfermline, shows a number of excellent troughs and other articles made of fire clay. Mr Wingate, Alloa, exhibited his iron meat coolers, corn bins, and other articles. Messrs W. D. Young & Co., George Street, Edinburgh, have wrought iron gates, hurdles, fencing, garden seats, chairs, and a large number of articles made of galvanised iron."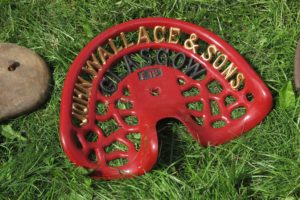 It provides a lot of information about who was exhibiting; where they came from; their manufactures; developments in implements and machines from former years; the key implements and machines in use at the time as well s other information.
How many of the names of the exhibitors do you still recognise?
The photographs were taken at rallies in recent years.