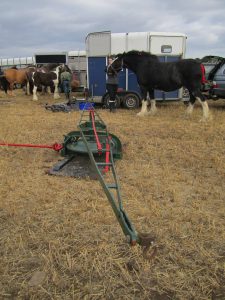 Horses provided an important source of power for a range of grain processing activities on the farm such as threshing and dressing from the late eighteenth century onwards.  The remains of that horse power can still be seen on some Scottish farms.  Some farms, especially smaller ones and crofts, had a "horse walk", a raised, circular platform, in part of the farm steading.  This was linked to a drive-shift which powered a mill.  On the larger farms, there were horse mill buildings.  These can be easily recognised: they are generally round(ish)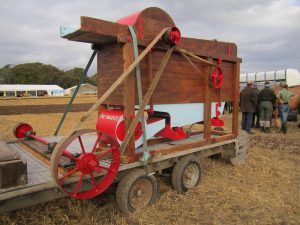 buildings with pantile or slate roofs with full-height openings between sections in the wall to provide ventilation from the working animals.  Next to them was a building in which was a mill. 
It isn't often that you see horse powered threshing and dressing activities at rallies in Scotland.  In 2014 the Strathnairn Vintage Rally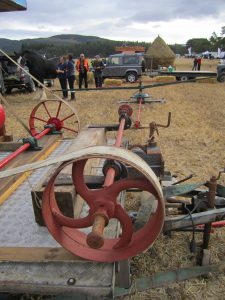 had a working demonstration of a horse powered thresher, a "Marvel" was driven by a Bentall horse gear from 1865.  The "Marvel" was developed by James Ferries & Co., Inverness, in 1929.
Two horses were used in the demonstration.  One was attached to each arm of the gear mechanism.  Each walked walked round in a circle, and as they did, they drove a drive shaft which was attached to the dresser, and which powered it.  Quite a sight to see!
The photographs were taken at the Strathnairn Vintage Rally, September 2014.
© 2016 Heather Holmes