Smithfield was an important show in the agricultural calendar for livestock owners and agricultural implement machine makers. The North British Agriculturist referred to the Scottish exhibitors as the "Scotch colony". It continues at length: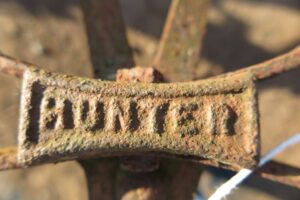 "The "Scotch colony" of exhibitors were all located conveniently near each other in a corner of the hall. All the Scotch firms usually represented at this show had forward a large collection of their products, with the exception of Messrs Ben Reid & Co., of Aberdeen, which firm did not this year send any exhibits, but Mr Anderson was there pushing his business with all his accustomed force and success. On the other hand, however, the Scotch colony had this year got anew recruit in the person of Mr McJannet, who had a stand on which he exhibited one of his well-known weigh0bridges. Mr Elder, of Berwick, was also well represented at the stand of the Massey-Harris Co., where he exhibited a number of his well-known appliances which are so highly appreciated by British agriculturists.
Messrs J. Wallace & Sons, of Graham Square, Glasgow, exhibited a selection of Oliver ploughs, which formed one of the most attractive features in the implement section. These ploughs, which might well be called editions de luxe of the ordinary Oliver ploughs, were decorated in a most artistic fashion, though in every other respect they were precisely identical with the Oliver plough supplied by this firm for ordinary use. The merits of the Oliver plough are now too widely recognized and appreciated all the world over to require any eulogium at this time of day. The firm also showed one of their well-known mowers and reapers, and also a potato digger which embodies several improvements.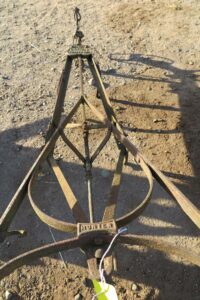 Messrs Jack & Sons, Maybole, showed one of their well-known reapers and mowers, which are now so widely used all over the country. They also showed a strong but light farm cart, fitted up with "fore and aft tops", which are specially designed for enabling heavy loads of hay or straw to be taken through narrow entries, as well as to be conveniently moved along the crowded streets. These carts have from the first been largely used by the Scotch colonists in England, and even the English farmers, who are rather conservative in their modes of practice, are now adopting them in place of the heavy waggons to which they formerly stuck so tenaciously. Messrs Jack & Sons also exhibited their potato digger, in which there has been quite a boom since it was exhibited for the first time at the Smithfield Show last year. Last season the firm turned out 150 of these diggers, and not only were these all sold, but the firm were wholly unable to adequately meet the demand for this new digger.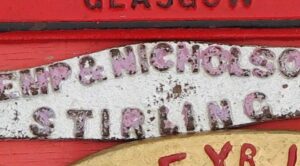 Messrs Kemp & Nicholson, of Stirling, showed their turnip-cutting cart, which should be an indispensable requisite to every farm where sheep receive turnips on the pastures. This cart is geared with a turnip slicer, by means of which the roots are sliced and automatically distributed as the cart is moved forward. The merits of this labour-saving machine are too obvious to require enlarging upon. Messrs Kemp & Nicholson also showed a seed drilling machine of excellent design and construction. 
Mr Thos Hunter, of Maybole, exhibited his well-known turnip-topping and tailing machine, which has invariably carried premier honours in any competition for this class of machine at which it was exhibited, and only a few weeks ago it was awarded the prize in the competition carried out by the Northumberland Agricultural Society. Now that labour has become so scarce and costly, this machine should be recognized as an indispensible in the equipment of every up-to-date farm. Mr Hunter also exhibited his well-known Hunter hoe, which almost every turnip-grower has learned to appreciate very fully.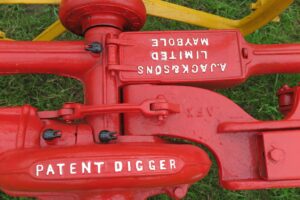 Mr McJannet, the indefatigable champion of the weigh-bridge, is largely in evidence. His stand, which is occupied by a "McJannet" weigh-bridge and cattle cage, the same as are fitted up at the Royal Farms at Windsor, did not occupy much space, but all the day long it was surrounded by a crowd of stock-owners who were interested in the buying and selling of cattle by live-weight, and who had evidently caught the enthusiasm with which the laird of OverInzievae expatiated on the advantages of the weighbroidge. Mr McJannet has this week published a small handbook containing his tables of the relative percentages of dead to live weight, and containing also copies of testimonials received from many stock-owners, who write in very enthusiastic terms respecting the "McJannet" weigh-bridge, which, like that of the Messrs Pooley, is priced at £16.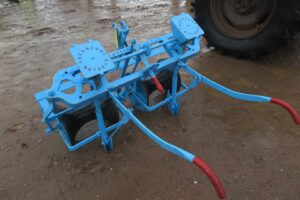 Among others, Mr R. Brydon, commissioner to the Marquis of Londonderry, writes-"We are well pleased with the weigh-bridge and cattle cage we had from you." Mr Malcome, Dunmore, writes:-"The cattle cage and binder which you supplied me with are giving me every satisfaction. They are very strong, and can resist the wildest bullock. I think no farmer dealing among cattle should be without one, and I am weighing all my cattle and selling them direct to the butcher."
Readers will recognise a number of the names of makers as key makers that continued well into the twentieth century. They also continued to be known names at the Smithfield Show for many years.