What would the farmers and agriculturists in 1924 see at the Highland Show?
The exhibition of implements and machines at the Highland Show was always well recorded in the local, regional and agricultural press. In 1924 the Scotsman provided a lengthy account of the Show which included reference to Scottish exhibitors. The following extract sets out a general account of the implement department and some of the well-known Scottish exhibitors.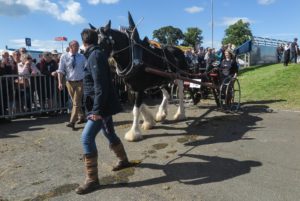 The display of farm implements is arresting in its scope and variety of interest. All phases of agriculture are represented, and many firms noted for the character of their products have stands. Particular interest naturally attaches to the new contrivances designed to aid the farmer in his operations, while noteworthy improvements in detail are to be noted on familiar implements. The casual visitor, as well as the agriculturist, will find a round of the stands an instructive experience.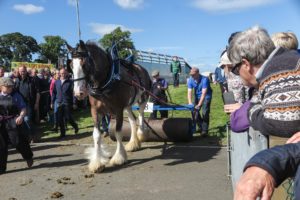 A wide range of implements and appliances is shown by Messrs Gillies & Henderson, Bread Street, Edinburgh, at stand 172. Useful types of binders and mowers are shown, as well as a manure distributor, a horse rake, hay collectors, and a hay bogie, a rick stand, a potato digger, and other implements.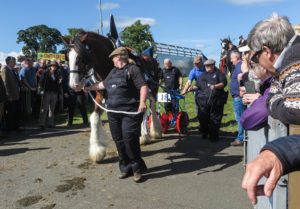 At Stand 127 of Messrs A. Newlands & Son (Ltd), St Magdalene Engineering Works, Linlithgow, there is a fine display. The Newlands tractor and horse cultivators and grubbers, horse hoes, and horse rakes are all marked by superior workmanship. They have also on view a wide selection of well-known implements by other firms, including the McCormick rake and grain drill, and the "International" tractor.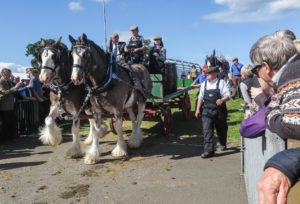 A notable feature of Stand 149, Messrs J. L. & J. Ballach, Gorgie Implement Works, Edinburgh, are the patent scarifiers produced by this firm. The No. 3 patent disc drill scarifier is fitted with compensating spring levers and sidelands arrangement, and the No. 4 patent combined scarifier has hoeing attachments. Turnip sowers, a combined turnip and manure sower, grinders, a potato sorter, a vertical steam boiler, complete with steaming pans, suitable for dairies and piggeries, and an artificial manure distributor are also among the exhibits, which embrace different aspects of agricultural activities.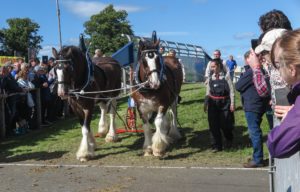 Besides having two new implements on view, Messrs Thomas Sheriff & Co., West Barns, Dunbar, have some of their familiar and well-made implements at Stand 155. Their drills, seeders, and sowers have a well-established reputation for good workmanship, and there are typical examples to be seen at their stand.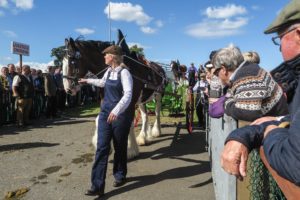 A large variety of iron goods, chains, and blacksmiths' supplies are on view at Stand No. 222, occupied by Neilson & Cleland (Ltd), Coatbridge.
Among the other exhibitors of implements are such well-known firms as Messrs Robert Begg & Son, Dalry, Ayrshire; Messrs J. D. Allan & Sons, Murthly; Messrs Jas Gray & Co., Stirling; Messrs William Wilson & Son (Crosshouse), Ltd, Stirling; Messrs Wm Elder & Sons (Ltd), Berwick on Tweed; Messrs David Irons & Sons, Forfar; Messrs Alexander Jack & Sons (Ltd)., Maybole; Messrs Geo. Sellar & Son (Ltd), Huntly; Messrs John Doe (Ltd), Errol; Messrs J. Bisset & Sons (Ltd), Blairgowrie; and Messrs A. & W. Pollock, Mauchline, Ayrshire.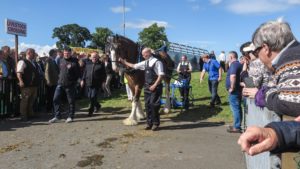 With such a representative list of makers and agents the implements section of the yard has many points of interest and lessons of practical value
The reporter was certainly impressed!
The photographs were taken at the Highland Show, 2019.