J is for …
Alexander Jack & Sons Ltd, Agricultural Implement Works, Maybole, Ayrshire
Johnson's (Implements) Scotland Ltd, 28 Orchard Place, Stirling
John Joiner & Sons, engineers, Burntsmithy, Turriff, Aberdeenshire
Alexander Jack & Sons, Agricultural Implement Works, Maybole, Ayrshire
Johnson's (Implements) Scotland Ltd, 28 Orchard Place, Stirling
John Joiner & Sons, engineers, Burntsmithy, Turriff, Aberdeenshire
Two of the makers under the alphabetic letter J are well-known.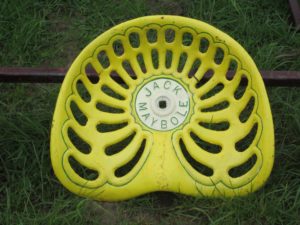 Johnson's (Implements) Scotland Ltd, 28 Orchard Place, Stirling, advertised in the Farming News in 1956. In following years it moved premises. By 1960 it moved to Colquhoun Street, and then to Kerse Road, Stirling in 1968. As an agent its well known products such as potato equipment from Johnson, Cooch, Catchpole, Cook, and Kennet in 1967. In 1966 it exhibited at the Highland Show, as a new model the Johnson/Underhaug model 1510 potato harvester invented by F. A. Underhaug (Fabrik), Stavanger, Norway, and made by F. A. Underhaug in association with Johnson's (Engineering) Ltd. This was an important potato harvester in the development of mechanical potato harvesters in Scotland, especially by smaller farmers interested in harvesting their crop.
In March 1968 Ransomes of Ipswich bought from the Ross Group, Johnson's (Engineering) Ltd of Cambridge and its subsidiaries Johnsons (Implements) Scotland Ltd, Stirling and the Catchpole Engineering Co. Ltd.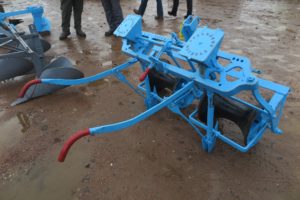 An older implement and machine maker was Alexander Jack & Sons, Agricultural Implement Works, Maybole, Ayrshire. Alexander Jack was first noted in the Scottish agricultural press in 1843 with the name and address Alexander Jack, Sawmill, Auchendrane, Maybole. By the early 1950s he described himself as a wood merchant at Culroy, Maybole.
By the late 1850s Alexander was joined by one son, and later into the early 1860s by another. The name Alexander Jack and Sons was to be known until 1905 when the company incorporated itself and became limited by guarantee as Alexander Jack & Sons Ltd. In 1930 it became the proprietor of another major Ayrshire maker – Thomas Hunter & Sons (Maybole) Ltd.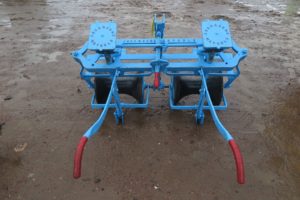 While the company was always based in Maybole, it opened a branch in Glasgow in the late 1870s. By 1879 its Glasgow premises was at 427 Gallowgate. With the move of the other implement makers to Graham Square, Alexander followed. By 1884 the company of implement makers and wood merchants was based at 20 Graham Square where it remained until at least the Second World War.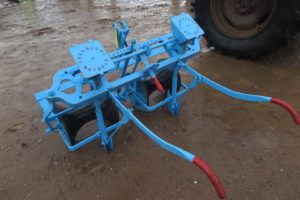 The company undertook a range of trades and activities – as agricultural implement makers, cartwrights, railway waggon builders, engineers, timber merchants, steam saw millers, smith and farrier, spring van and lorry builder and wood merchant. It was especially noted for its mowers and reapers, potato diggers and carts. In 1935 it noted how it had been a maker of Scotch carts for over 90 years.
By the 1870s the company also acted as an agent for a range of other makers. In 1875 they included W. N. Nicholson & Son, Newark On Trent, Ransomes, Sims & Head, Orwell Works, Ipswitch, John Williams & Son, Rhyl, Richmond & Chandler, Salford, Manchester, Picksley, Sims & Co. Ltd, Leigh, Lancashire, James Pattison, Hurlet. In 1909 they were International Harvester Co. of Great Britain Ltd, London, Cockshutt Plow Co. Ltd, Brantford, Canada.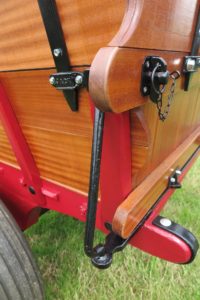 The company was a regular advertiser in the Scottish farming press as well as a regular at the Royal Highland Show, where it travelled to all of the show districts. It also frequented major shows in Northern Ireland as well as the Royal Agricultural Society of England. In Scotland it did well at the shows, especially the Highland Show. For example, in 1859 it was awarded a bronze medal for second best sowing machine for turnips as well as other awards for Norwegian harrows, a one row sowing machine for beans. In the early 1870s it was awarded silver medals for its collection of implements and machines. But it was its potato raisers, such as its Caledonian, that won it national awards in England at the Royal Agricultural Society of England trials in 1896. This was a major accolade for a Scottish company against the major English players.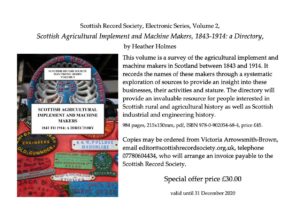 Update –
If you are interested in the Scottish agricultural implement and machine makers in the period you may be interested in the newly published e-book Scottish agricultural implement and machine makers, 1843-1914: a directory, which has just been published by the Scottish Record Society. It is on special offer until 31 December 2020.