D is for …
Dairy Supply Co. Ltd, 7 Grassmarket, Edinburgh
Dairyority, 129 West Graham Street, Glasgow
The Dairy Utensil Supplies Co., 1 Wellington Place, Leith
Dalgetty Brothers, engineers, 70 Hutcheon Street, Aberdeen
Jonathan Davidson & Co, steelyard and weighing machine manufacturers, East London Street, Edinburgh
William Davidson, Commercial Road, Hawick, Roxburghshire
James Davie & Sons, ironfounders and engineers, Stirling Foundry, Orchard Place, Stirling
Alexander Dey, 35 Church Street, Huntly, Aberdeenshire
G. Dick, The Square, Meigle, Perthshire
Dickie Brothers, Forth Street, Stirling
William Dickie & Sons, Victoria Works, East Kilbride, Lanarkshire
The D. L. Motor Manufacturing Co. Hamilton Road, Motherwell, Lanarkshire
Dodds & Clark, Somnerfield Works, Haddington, East Lothian
Dodds & Rignall, engineers and agricultural implement agents, 35 George IV Bridge, Edinburgh, and 22 Corn Exchange, Cupar, Fife
John Doe Ltd, agricultural implement makers, 20 Caledonian Road, Perth
Daniel Douglas, Westfield Works, Auchterarder, Perthshire
Alexander Douglas (reapers & rollers), Dalrymple Street, Stranraer, Wigtownshire
John Drummond & Son (thrashing and reaping and grass seed dressing machines), Barrhill Road, Old Cumnock, Ayrshire
Matthew Dunlop, implement maker and agent, 8 Graham Square, Glasgow; works, Abercrombie Street, Glasgow
Robert Duncan, ironfounder, Patrick Foundry, Partick, Glasgow
John Duncanson (harrows &c), 118 High Street, Dunbar, East Lothian
Alexander D. Dunbar (ploughs, cultivators and harrows), 35 Blackfriars Road, Elgin, Morayshire
Andrew Duff & Sons, engineers (Kemp & Nicholson's works), Stirling
James R. Duguid, agricultural machinery manufacturer, Cultercullen, Udny, Aberdeenshire
A Duncan, joiner and body builder (tractor cabs), Inchbroom, Clarkston, Nigg
H. V. Duncan, dairy utensil manufacturer, 99 Constitution Street, Leith
Matthew Dunlop, implement makers and agents, 8 Graham Square, Glasgow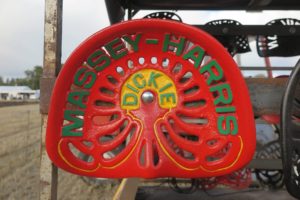 The above is a selection of agricultural implement and machine makers with the surname starting with the letter D. Some of our readers will be familiar with a number of them.
One of the well-known thrashing machine makers in Ayrshire was John Drummond & Son, Barrhill Road, Old Cumnock, Ayrshire. It was in business from 1860 until at least 1930. Until 1913 its trades included agricultural implement maker, mechanical engineer, smith and smith and farrier. It was an exhibitor at the Royal Highland Show from 1860 to 1903: it exhibited in seven of the eight show districts; it did not attend the show in Inverness. A number of its manufactures were recognized by the Royal Highland Society of Scotland: it received an award of 5 sovereigns for best thrashing machine for two or more horses in 1860; a bronze medal for second best cheese press in 1860; a silver medal for collection in 1870; a minor silver medal for two horse power thrashing machine with horse works complete in 1875.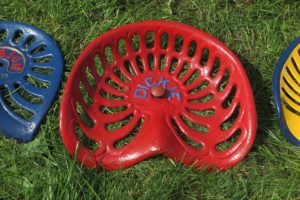 Andrew Duff & Sons, Stirling, first advertised in the Scottish Farmer on 25 December 1925. It was located at 28 Forth Street in the town. When Kemp & Nicholson, the well-known makers, also in Forth Street, ceased business in 1933 it moved into its premises, and continued to trade until at least 1858. The business described itself as an agricultural engineer. In 1958 it was an agent for Bamfords.
Another business in Stirling was Dickie Brothers Forth Street, Stirling. It occupied the Forth Engineering Works, Forth Street, Stirling from at least 1910 to 1913. It was also an agricultural engineer and agricultural implement maker. It specialized in hay presses, thrashing mills and engines. It advertised in the North British Agriculturists in 1912 and 1913 and also exhibited at the Royal Highland Show in these years.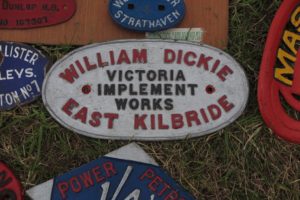 In previous posts we have seen how a series of businesses occupied particular works. A further one is the Somnerfield Works, Haddington, East Lothian. In 1869 Somnerfield was occupied by Samuel Dodds. He continued under his name until 1900. During these thirty or so years he undertook a number of trades: agricultural implement maker (1870-1895), engineer, ironfounder and millwright (1897), machinery merchant (1897), mechanical engineer (1870-1900), millwright (1870-1900). He was also an agricultural implement agent, holding agencies for implement makers as R. Hornsby & Sons, Grantham in 1864 and 1879, Jack & Sons, Maybole in 1884, and McCormick Harvesting Machine Co., London in 1890.
By 1924 the company was known as Dodds & Clark, Somnerfield Works, Haddington, East Lothian. It described itself as engineers and thrashing mill proprietors. Its co-partnership of Samuel Dodds and Alexander Thomson Clark was dissolved on 30 September 1924, when Samuel Dodds retired. The business was carried on by Alexander Thomson Clark. He continued the business until early 1929 when it was purchased by R. Wylie & Sons, threshing contractors, Lochill, Longniddry. On 23 February 1929 it announced that it would carry on the business at Somnerfield Works under the name of R. Wyllie & Sons.
R. Wyllie & Sons, of Somnerfield Works, Haddington continued in business as an agricultural engineer and a mechanical engineer until at least 1951; it advertised in the Scottish Farmer in that year.