O is for …
James F. Ogg, Bridge of Muchalls, Stonehaven, Kincardineshire
Jack Olding & Co. (Scotland) Ltd, Coronation Works, Coupar Angus, Perthshire (1951)
Andrew Oliver, Allanton, Chirnside, Berwickshire
John Oswald & Son 14 Damacre Road, Brechin, Angus (1922)
James F. Ogg, Bridge of Muchalls, Stonehaven, was an agricultural engineer, implement, machinery and equipment dealer. Directories record him at work in the 1950s and early 1960s. He exhibited at the Highland Show of 1951 at Aberdeen. He also advertised in the Scottish Farmer in the mid 1950s.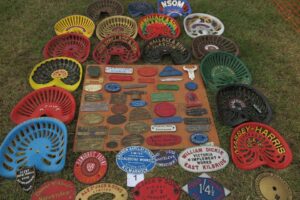 John Oswald of Brechin already had a shop at 14 Damacre Road, Brechin, in 1922. The company was a cycle agent and dealer, a motor cycle agent and dealer as well as a smith. He exhibited at the Highland Show in 1948 in Inverness, in 1949 in Dundee and in 1952 at Kelso. He was most well-known for his 'Allways' three way hydraulic tipping trailer, which he won a silver medal for at the Highland Show of 1948.
Jack Olding & Co. (Scotland) Ltd, of the Coronation Works, Coupar Angus, Perthshire, is a name that is known to a number of readers. The company is recorded in directories from 1951 onwards. By 1952 the company also had branches at Bucksburn and at Huntly. By 1960 these were extended to Perth, Coupar Angus, Aberfeldy, Bucksburn, Huntly and Mintlaw. By 1966 its works had been moved to the Glencairn Works, Perth.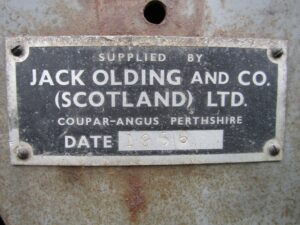 The business undertook a range of activities as agricultural engineers, implement, machinery and equipment dealers. The name of Olding is best associated with Massey Ferguson. You can still see a number of Ferguson tractors around the rally fields with Olding badges.
The company was a regular attender to the Highland Show from 1951. It entered the Jack Olding grain dryer for the new implement award of the Royal Highland and Agricultural Society in 1961. It was also a regular advertiser in the farming press.