One of the well known implement and machine makers in Perthshire was J. Bisset & Sons, Marlee, which was already trading in 1867. It continued in business until the mid 1960s. On 16 June 1966 the company passed a resolution to voluntarily wind up the company. It was dissolved on 20 November 1970. The company was noted for its reaping machines and binders, as well as its potato diggers.
Like a number of the other Scottish agricultural implement and machine makers, it re-organised its business and became a company limited by guarantee. It became incorporated on 19 February 1897.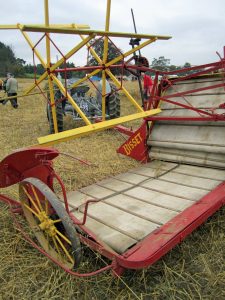 In order to raise its share capital, the company drew on the local and wider community. It needed to raise a nominal capital of £15,000 which was divided into 3000 shares of £5 each. It advertised its shares for purchase by interested parties. They came from a range of walks of life and places.
From Blairgowrie, they included persons from a range of trades and positions in the town: David Bissett, farmer; J. B. Miller, solicitor; Alexander Allan, printer; Geo. J. Bissett, merchant; Allan Brown, butcher; Thomas Craig, Clerk; James M. Mcdonald, farmer; John B. Miller, solicitor; Alex C. Milne, photographer; David Mitchell, cashier; William Muir, Minister; Peter J. Robertson, grocer; and Robert Robertson, solicitor. A range of other subscribers were from other districts of Perthshire. They included William Annand was an auctioneer from Alyth; David Burns, a farmer from Redgorton; William Davie, a retired merchant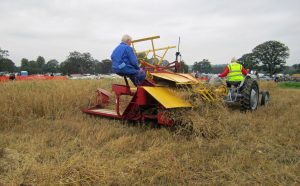 from Dunked; David Ramsay, a farmer at East Mains, Collision; and John Robertson, a farmer from Redgorton. Edinburgh provided a number of subscribers from the professions. They included John Bissett, banker; Alexander Gray, advocate; William Greenhill, C.A.; and Walter George Rae, stockbroker. there were others from other parts of Scotland such as Wm P. Bain, manufacturer, Hamilton; Fleming & Barry Ltd, wood merchant, Dundee; David Wishart, iron merchant, Edinburgh; and Robert Jeffrey, a boltmaker from St Ninians.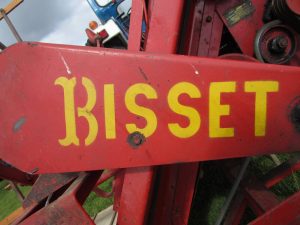 The subscribers included other implement and machine makers. One was James Hogarth, engineer, Kelso, in 1903. J. & R. Hogarth, engineers, Sheddan Park Road, Kelso, were threshing machine makers. Among their trades they were agricultural implement makers, engineers, engineers, iron founders and millwrights, mechanical engineers, steam engine manufacturers. They exhibited at the Highland Show in 1884, 1888, 1889, and 1898.
In 1906 subscribers included Kemp Smith of the Central Works, Stirling. This was one of the key implement makers and dealers in Stirling, continuing in business until the 1930s.
Bissets was an implement maker that drew on and supported the local Perthshire community: as a source of investment, as an employer, and as a supplier to the agricultural community of a range of noted implements and machines.