Many of us will be familiar with the travelling mills and threshing contracts that went around farms undertaking the threshing of the grain throughout the year. Some were small businesses with one threshing machine while others were much larger with multiple threshing machines and motive power to take them around the country.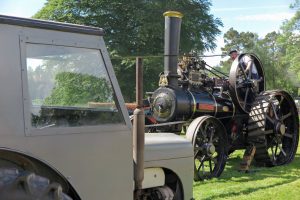 So what tackle did a business need to operate a steam threshing business?
Evidence from displenishing sale notices in newspapers, whether agricultural or provincial, record to a great degree items that were to be sold or rouped. There are a number of sale notices for threshing mill contractors throughout Scotland throughout both the nineteenth and twentieth centuries. These can provide a significant amount of detail.
One contractor, Mangoes Ltd, a company registered in Glasgow, but operated at Niddrie Mill, Portobello, Midlothian, gave up business in 1944, a date when steam contracting was being replaced by other forms of power. The company was a significant sized one with 9 threshing machines and 9 traction engines. It also acted as a motor engineering business. Its displenishing notice in The Scotsman read: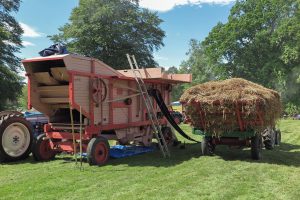 "Highly important sake if steam haulage threshing and baling plant. High class garage equipment, machine tools, land and buildings, including 9 traction engines, 7 and 6HP, boilers insured at from 180 to 120lbs pressure; 9 portable threshing, dressing and finishing machines, by Ruston & Hornsby Ltd, Clayton & Shuttleworth Ltd, and Wm Foster & Co. Ltd, each with No. 4 Hornsby straw trusser; 6 Ruston self-feeding baling presses; Howard self-feeding baling press; 8 living vans, 4 on pneumatics; 20 cwt Morris commercial platform lorry; 10 HP Austin saloon; 7 in centre SA SS and SC hollow-spindle gap bed lathe, by Swift, 7 1/2 ft bed; 20 in Barnes pillar vertical drill; Fortuna power hack saw; DH grinder; 125 HP AC three-phase 50 period 440 volt mootor, revs 960, with starter; van Norman Valve Refacer, volts 250 AC; Black & Decker Vibro-Centric Universal Electric Valve Grinder; Buma Insert and Reseating Tool; Hutto Cylinder Grinder, 2 Black & Decker universal portable electric drills; H and LT battery charging boards; EPCO jack car lift combination; 3 hydraulic jacks; eight 6, 5 and 4 ton bottle jacks; Millennium garage jack; BEN belt driven air compressor, model A2, with receiver; Kismet air tank outfit; Whitworth, gas, BSF, BA screwing tackle in sets (almost new); expanding reamers; hand parallel and taper reamers, Ferodo brake tester, precision crankshaft truing tool; brake living riveter; Britoil Whitworth, SAE and American thread socket spanners, Gedore panel beating set; size 60 Cleco pneumatic riveting hammer (almost new); BOC combined oxyacetylene welding and cuttings et; set of 6 boiler stay taps, 7/8 in, 15-16 in, and 1 in (almost new); Vulcan boiler test pump, with connections; 120 lots valuable garage and engineering tools; 60 lots garage accessories and materials; 60 lots mill, trusser, baler and engine spares, motor, mill and engine oils; living van utensils, army blankets, &c. Also ground and buildings (unless previously sold privately), including garage, store, and large repair shed together with 4 petrol pumps and underground tanks. Area of ground about 1 acre. For further particulars see advertisements in Scotsman tomorrow.
At Niddrie Mill, Portobello, Midlothian, on Thursday, 27th July 1944. At 11am prompt.
Shirlaw, Allan & Co., auctioneers, Hamilton, have received instructions from Messrs Mangoes Ltd, 266 Gorbals Street, Glasgow, C5, who are giving up their threshing and motor engineering business, to see by auction, as above. On view 3 days prior to sale. Catalogues from auctioneers."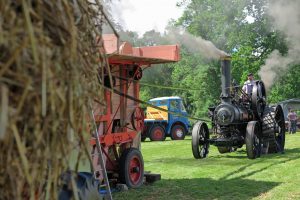 Shirlaw, Allan & Co., was one of the most important auctioneers of industrial plant and sold a number of sets of threshing mills and steam ploughing tackle. Mangoes was using English tackle from the largest Enghlish makers rather than utilising that from Scottish makers such as Garvie of Aberdeen. It was matching the threshing machine with the traction engine, and it is likely that both were ordered at the same time.
I wonder where the traction engines and threshing mills went to.
The photographs of threshing were taken at the Bon-Accord Steam Fair, June 2017.