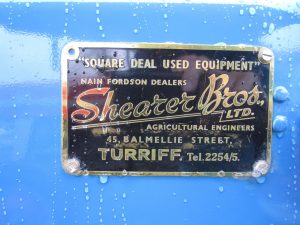 A well-known thrashing mill maker in north-east Scotland was Shearer Brothers, Maybank Works, Railway Station, Turriff, later of Balmellie Street, Turriff. It undertook business from at least 1876 until 1972; on 18 July 1972 the company passed a special resolution to voluntarily wind up the company. The final winding up meeting was held on 29 August 1972.
The company undertook a number of trades and was an agricultural engineer, an agricultural implement maker, a machinery maker, a mechanical engineer, millwright and later a motor engineer. It was active in promoting its manufactures: exhibiting at the Highland Show from 1876 until 1939. It was awarded a medium silver medal for foot power thrashing machine in 1876. It also entered into the trial of machines for cleaning all sorts of grain and other seeds from weeds in 1884. It was also regular advertiser in the North British Agriculturist from 1884 onwards.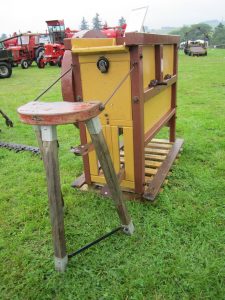 The company manufactured a range of threshing mills. In 1876 it manufactured a foot power thrashing machine which it described as a new invention. By 1881 it manufactured its "Advance" thresher for foot and hand power and the "Simplex" rotary fanner. By the following year it was also manufacturing a small hand thresher with adjustable feeder. These continued to be its main manufactures for following years. To these were added the new "Paragon" dressing and screening machine in 1887.
There are still a number of thrashing mills made by Shearer Brothers to be seen around the rally fields.