Most readers will associate the scythe as an implement from a byegone era. Writing in 1844 in The Book of the Farm, Henry Stephens noted that "every species of grain is cut down with two small instruments, the scythe or the sickle. The scythe can only be used by men, the sickle by both women and men. Reapers with the scythe must not only be strong men, capable of undergoing great fatigue, but they must use the instrument dexterously, otherwise they will make rough work and create confusion in the harvest field, where every operation ought to be carried on with precision and least loss of time. The scythesman requires a person to follow him and carefully gather the corn he has mown into sheaves in bands, previously laid down for the purpose, and no person is better fitted for this office than a woman. Another person follows the woman, the bandster, whose duty, as his name implies, is to bind the sheaves made by the woman, with the bands he finds lying under them. Another person follows all these, and clears the ground of every loose head of corn with a large rake, and this person may either be a man or a woman. (p. 1050)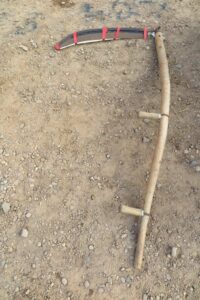 Though the technology on the harvest field changes significantly with the development of reapers and binders, scythes still continued to have their place well into the twentieth century. On 31 July 1931, John Hislop & Son, ironmonger and plumbers, Market Place, Carluke, advertised "seasonable lines for the farmer". These included: "hay rakes, rake teeth, hay forks, reaper and mill saw files, carborundum scythe and reaper stones, scythe blades and sneds, and reaping hooks, stack rope and binder twine." These included all the hand tools associated with reaping by scythe including sharpeners and rakes as well as blades.
Hyslop was not the only ironmonger to advertise scythes and their associated tools. In Aberdeenshire, on 12 September James Mackie & Co., Ltd, ironmongers, seedsmen, grocers, wine and spirit merchants advertised his wares for the harvest field in the Aberdeen press and journal: "large selection of carborundum files, reaper and saw files, oilers, scythe blades, sneds, scythe strickles, stable pails, stable brooms, dandy brushes, horse and cattle comns, bolts and nuts, lanterns, paraffin drums, tanks, and flasks; and all seasonable requirements. Binder and stack covers, different sizes, best value." His range also includes tools and requirements for working with the modern binders.
In 1931 the scythe was seen as an essential hand tool on the farm – at least in Aberdeenshire. They could be found listed in the contents of displenishing sales, at for example the farms of Waterside of Forbes, Mill of Ennets (Torphins), Middleton (Findon), Milton (Gight, Methlick), Ardoe, Muiryhaugh, Strachan, Rickarton, and Glenhead (Kenmay).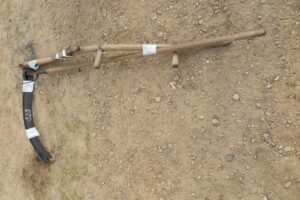 However, in 1931 the scythe continued to be a much valued hand tool. On 26 August that year the Aberdeenshire press and journal noted that "a boom in the sale of scythes is expected by Aberdeen firms of agricultural implement dealers this harvest time in view of the fact that so many fields of grain have been "laid" by recent storms." It added: "on the last occasion on which harvests were laid low, said an employee of a well-known form to a "Press and Journal" representative, we sold an enormous number of scythes, and while as yet it is rather early to expect orders, we are preparing for a similar demand this year."
Scythes were essential during poor harvests when the crops were laid and weather intermittent. As the Arbroath herald and advertiser noted on 4 September 1931: "last year quite a number of scythes were put into use in this district at harvest time, and many farmers who had rid themselves of these implements found difficulty in getting supplies in time."
They continued to be used to open up fields and were invaluable to cut sections that had been "laid" by wind or/and rain that could not be cut by the binder. Writing on harvesting in Mid-Atholl, the Dundee Courier of 1 September 1931 noted their uses "where heads are twisted in all directions the scythe". It also noted that "some of the heads will be cut green for the feeding of stock, as the grain will not now ripen satisfactorily for milling purposes".
Scythes – an essential hand tool for helping the farmer in difficult harvests.
The photographs were taken at the National Tractor Show.