If you were a farmer at the end of the Fist World War you may have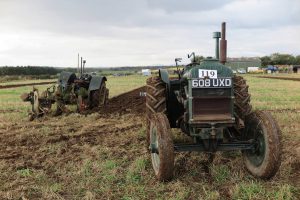 had an interest in tractors that were starting to be used on Scottish farms, or had used one of them. The Royal Highland and Agricultural Society of Scotland was also interested in the tractors and tillage implements, running a series of trials from 1915 into the early 1920s.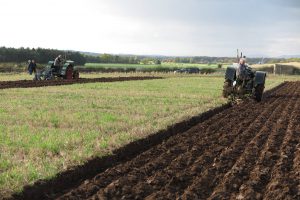 The Society's trial held between 17 and 20 October 1922 was provided an important forum for the exhibition of tractors – including the Glasgow tractor – and implements, especially ploughs, made by Scottish and other makers.
The Scottish ploughs were made by some of the leading plough makers of the day, showing their recognition that tractor ploughs were the way forward for the Scottish agriculturist. The ploughs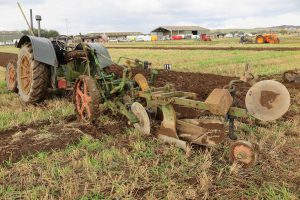 included ones from Robert Begg & Son, Implement Words, Dalry, had a double-furrow self-lift tractor plough which was described as "strongly constructed". The committee described it as "a well-constructed, easily adjustable plough, readily adapted for either stubble or lea, and suited for all classes of soil. It did good work both on stubble and lea, and the plots ploughed by it were considered to be amongst the best on the ground."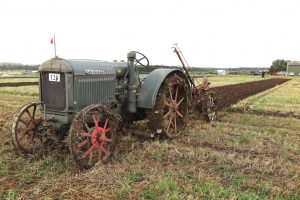 Morton Engineering Company, Ladylands, Corstorphine, Edinburgh, had a new combined utility implement for general purpose tractor work which embraces a 2-furrow adjustable plough and subsoiler, 9- or 11- tine cultivator, 9-tine stubble scarifier, 5- or 7- tine grubber. The committee described this new plough, convertible into a grubber or cultivator" as being "well designed, simple in construction, and readily adjustable. It did very good work on stubble and excellent work on lea, where its performance reached a very high standard. The Committee are of opinion that a combined implement of this description is a creditable production, and one likely to commend itself to farmers".
A. Newlands & Sons Ltd, St Magdalene Engineering Works, Linlithgow, demonstrated a self-lift 7-tine grubber, constructed on the same principles as the old Scotch parallel frame grubber, but made specially strong for work with a tractor, as well as two self-lift cultivators, one with 9 tines, the other with 11 tines, and a self-lift brake harrow to work in conjunction with a cultivator.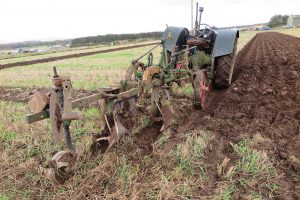 G. Sellar & Son, Huntly, Aberdeenshire, demonstrated its Sellar B.D.F. type, 2/3-furrow self-lift tractor plough which had a main frame of simple construction combined with strength; it was made of best quality Bessemer steel. It also had a self-lift tractor grubber. The Committee described the 3-furrow, convertible to 2-furrow plough as a "good plough". It was "easily and quickly adjustable to varying widths and depths. Its work did not reach the highest standard at the demonstration, the principle objection noted being that it did not sufficiently bury the surface vegetation." The grubber was described as "a well-made powerful 5-tine self-lift grubber, wich broke an unploughed stubble to a depth of 7″ or 8″, and did its work in a first-rate manner".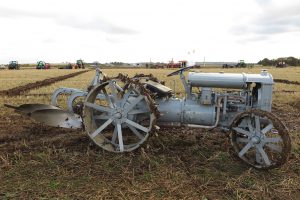 A number of Scottish implement and machine makers demonstrated implements from other makers, usually from companies outside Scotland. For example, Henry Alexander & Company, Nottingham Place, Edinburgh, a Fordson dealer, had an Oliver no. 7 2 furrow 10″ to 12″ adjustable plough. Henderson Brothers, 29 Barnton Street, Stirling, had a Massey-Harris 2 furrow adjustable plough, a Massey-Harris 9-tine self-lift cultivator, a Massey-Harris tandem disc harrow and a Massey-Harris spring-tooth harrow. Alexander Jack & Sons, Maybole, had a Dux- self-lift tractor plough with subsoiling attachment. Wallace (Glasgow) Limited, 34 Paton Street, Glasgow, had an Oliver no 78 3-furrow self-lift tractor plough, 10″ wide.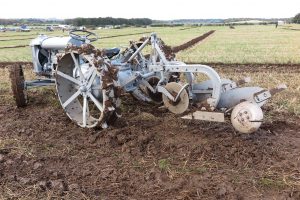 The Committee considered that there had been a significant advance in ploughs since the earlier trials of the Society. It reported that "much good work was performed. All ploughs are now fitted with a self-lift attachment. Many of them are also provided with and efficient means of adjustment to different widths and depths. In view of the varying conditions of soil in Scotland and the variety of work to be undertaken, a plough that is not adjustable must be regarded as being unsuitable. There is still room for improvement, but in the case and rapidity with which adjustment may be effected. In this connection it may be noted that a tractor plough, taking 2 or 3 furrows, requires more adjustment than a horse plough."
Next time you are at a ploughing match and you see trailing ploughs, think about the early days of the tractor ploughs and the important work of the Royal Highland and Agricultural Society of Scotland in promoting them to the Scottish agriculturist.
The photographs of trailing ploughs and ploughing with them were taken at the Scottish Ploughing Championships, October 2016.