From the 1960s the New Holland name has been a feature of the Scottish harvest field with its combine harvesters and balers.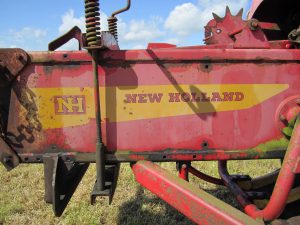 By 1968 the company already had already a wide network of dealerships throughout the country, with the focus on the eastern arable area. They were located at: West Cumberland Framers Ltd, Heathhall, Dumfries, Newton St Boswells, Kilmarnock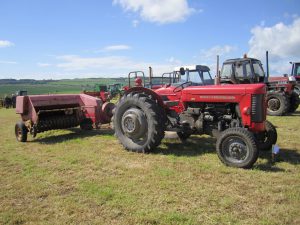 Thomas Sherriff & Company Ltd, West Barns, Dunbar, and Berwick on Tweed
Carnwath Agricultural Engineering Co. Ltd, Carnwath
Inch Agricultural Engneering Co. Ltd, Bathgate
Gillies & Henderson (Forfar) Lyd, Forfar
Gillies & Henderson (Perth) Ltd, Perth
Alexander Bros. (Watten), Wick
Elgin Central Engineers Ltd, Moycroft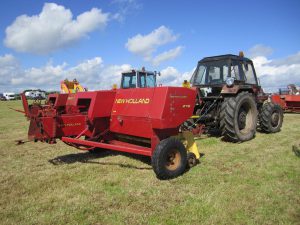 Hamilton of Larkhall (Tractors) Ltd, Larkhall (branch, Stirling)
Cumming & Dempster, Banchory
A. & W. Pollock Ltd, Mauchline
Landmech Limited, Dumfries
Laggan Engineering Co. Ltd, Port Ellen, Islay
Barclay, Ross & Hutchison, Ltd, depots at Aberdeen, Turriff, Montrose and Huntly
Robertson of Tain Ltd, Tain
John L. Burnett Ltd, Pittenweem
Gillies & Henderson Ltd, Edinburgh, Fife, and Haddington.
Do you remember buying your New Holland harvesting equipment from any of these dealers?
The photographs of the New Holland balers and combine were taken at the Fife Vintage Rally, June 2014 and 2015.
© 2016 Heather Holmes