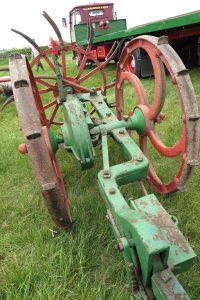 In 1871 James Mollison, Ruthven, Alyth, Perthshire exhibited a spinner digger at the Highland Show held in Perth.  It was recommended for trial, going on to win a medium silver medal.  A decade later, he entered another potato digger for trial.  By 1902, the year of his death, he was making an "improved potato digger".
James Mollison was described as a "well-known figure to the older agriculturists of the county."  He was "born in the parish of Aberlemno some 74 years ago, where he received his schooling and served his apprenticeship. …  He worked for some years with the late Mr balfour of Montpelier, also the late Mr Alexander Young, agricultural implement maker, Monifieth.  Soon afterwards he accepted a situation in Sweden, which he occupied for some years. Returning to his native country, he was employed at Ruthann for some six months before he entered upon his life-long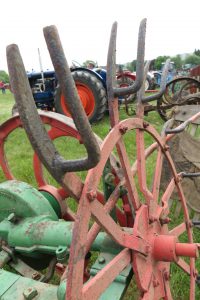 tenancy of nearly 50 years.  Mr Mollison was widely known as a skilful agricultural implement-maker, excelling in the manufacture of ploughs, numbers of which he forwarded to Scotsman in foreign lands.  About 1860 he began the manufacture of mowers, and his Isla reaper was favourably known over all the north-east of Scotland.  His make of potato diggers was also largely used some years ago.  Mr Mollison was predecease a twelvemonth ago by his wife, who was a daughter of the late Mr Lindsay, parochial schoolmaster, Ruthann, and is survived by an only daughter, Mrs George Doe, Errol, who has the sympathy of a large circle of friends in her sudden bereavement.  Mr Mollison was an attached member of the Established Church, and for a long number of years affiliated as an elder in Ruthann Parish Church." (Dundee Courier, 30 September 1902)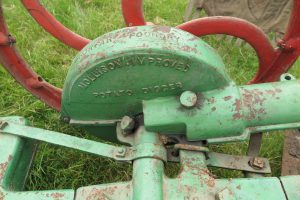 Mollison's improved potato digger did not die with the blacksmith. It's production was taken over by the Forfar Foundry Ltd.  This agricultural engineer and agent, iron founder and millwright continued to manufacture a range of productions into at least the 1960s. It was dissolved in 1995.
The photographs of the Forfar Foundry Mollison potato digger were taken at the Fife Vintage Agricultural machinery Club Farming Heritage Show and Annual Rally, Kilmaron, Cupar, June 2016.
© 2016 Heather Holmes