One of the names that was well-known in Portsoy, Banffshire and the north-east of Scotland from the. 1870s until well through the twentieth century was the MacDonald Brothers of Lochside Engineering Works, Roseacre Street.
They were already making agricultural implements and machines in 1878. Their early manufactures included harrows and turnip lifters. By 1885 they had started to make back delivery reapers; they continued to make these until the early twentieth century. They had a number of models. In 1890 one of them was the Princess, a one horse self-acting back delivery reaper. Another two from 1894 were the Portsoy self-acting back delivery reaper and the Simplex self-acting back delivery reaper.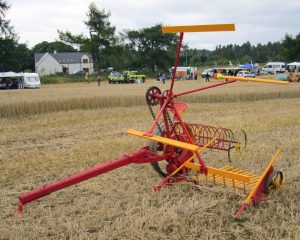 The brothers were agricultural implement makers, mechanical engineers, millwrights and smiths. When cars became more common place they became motor engineers. They were a forward-looking business, advertising in the national agricultural press – the North British Agriculturist – and exhibited at the Highland Show from 1879 until at least 1928. They largely exhibited in the Inverness and Aberdeen shows, the area of their largest customer base.
They entered their implements for trails and new implements at the Highland Show. These included a turnip lifter at the trials in 1881. In 1885 they entered ploughs, grubbers and harrows for trial. A decade later they entered a further turnip lifter; in 1899, a further manure distributer. They won £10 first prize for a turnip lifter in 1895. Behind the business were the brothers James and Alexander Macdonald. They died within a few years of one another in 1913 and 1916. Their obituaries provide information on their lives, their business and their activities:

Baillie James Macdonald, Portsoy (died March 1913)The Aberdeen press and journal notes: "Baillie James Macdonald, Portsoy, died early yesterday morning after a brief illness. He had been a well-known figure in the business life of Portsoy for about 35 years, and was a general favourite. In all things pertaining to the good of the town, he took a leading part. In the work of other Boards as well as the Town Council he took a very keen interest. It is now 35 years since he and his brother, Mr Alexander Macdonald, started the firm in Portsoy of Macdonald Bros, engineers and implement makers, which has to-day a wide reputation. Mr Macdonald was a Liberal I politics, and for some years he held office as president of the Banffshire Liberal Association. For many years he was also president of the local association. He was a devoted member of the East U.F. Church, and for a number of years acted as one of the managers."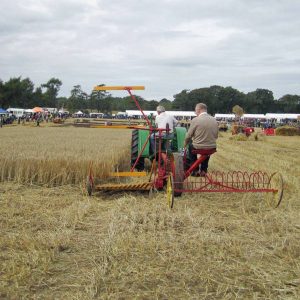 Mr Alexander Macdonald, Portsoy (died January 1916) The Aberdeen press and journal note: It will be learned with deep regret that Mr Alexander Macdonald, engineer and agricultural implement maker, died suddenly yesterday at his residence, 22 Durn Road. He has been at work as usual, but was seized with a pain in the back, and thought it advisable to go home. Serious symptoms manifested themselves, and he passed away at half-past one o'clock. Mr Macdonald was well-known throughout a wide circle, especially among agriculturists, and was a general favourite with all classes, and his death will call forth many expressions of deep regret. He took a great interest in all things pertaining to the good of the town and district. For a number of years he has been a member of Fordyce School Board and Fordyce Parish Council, and in all public movements took an intelligent part. It is now 38 years since he and his brother, the late Baillie Macdonald, started business in Portsoy as engineers and implement makers-a business which to-day may be said to have a world wide reputation.

The Aberdeen press and journal, also provided an account of the funeral of Alexander Macdonald: The funeral took place yesterday to Portsoy Cemetery of the late Mr Alex Macdonald, of Messrs Macdonald Brothers, engineers and agricultural implement makers, Portsoy. There was a large attendance of the general public representative of town and district, also many from a distance, deceased having been well known throughout a wide area. The coffin, of polished oak, was covered with a number of beautiful wreaths. The workmen of the firm walked on each side of the hearse; and following the chief mourners came the boys of the senior department of Portsoy School, in charge of Mr Wm Maclean, the headmaster; then the members of Fordyce School Board, Fordyce Parish Council, and Portsoy Town Council, and general public. As a mark of respect, shops were closed and blinds drawn all along the line of route. At the cemetery the remains were carried by the workmen to the side of the grave. The services were conducted by the Rev Wm Browne.

The Princess reaper from 1890 was photographed at the Strathnairn Farmers Association Working Vintage Rally & Display, September 2013.