The 1970s saw a number of major industrial strikes in Britain. These included Ford.
The Ford strikes of 1973 and 1975 had an impact on the supply of tractors in Midlothian and other parts of Scotland. One the tractor dealers reported the impact on their business in each of these years in their annual accounts which are now in the National Archives of Scotland.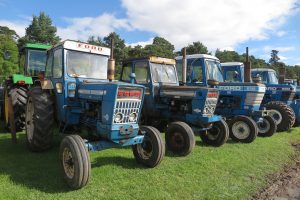 For 1973, they wrote: "During the first half of 1973 trading was very good, but following the Ford plant shut-down for three weeks holiday, and the Ford strike for 5 weeks immediately after, coupled with the strikes at Girling and Lucas factories, the supply of vehicles and spare parts from the factory were cut by approximately 50% with the result that trading in the latter part of the year was not as anticipated."
In 1975 they wrote" "Following the annual shut down at Ford Motor Co. in August, the supply of new Ford vehicles virtually dried up due to strikes and industrial disputes at the various Ford plants, the result of which was no specific allocation of cars being made to dealerships during the latter part of the year."
What do you remember about the Ford strikes of the 1970s and their impact on tractor supply?
The photographs were taken at the Deeside Rally, August 2017.