If you were a farmer or agriculturist in Scotland in 1952 and were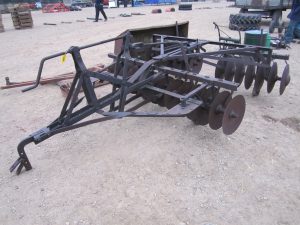 looking to purchase a set of disc harrows for thoroughly pulverising the soil, and cutting up tough sides or boggy land,you could have chosen a set from Scottish as well as English makers.
There were two Scottish makers. The first was A. Newlands & Sons Ltd, St Magdalene Engineering Works, Linlithgow. It made tractor drawn, tandem discus with a working width of 7 feet 6 inches. The discs ranged from 20 to 24 inches in diameter. The second was A. &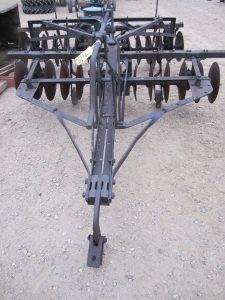 W. Pollock, Implement Works, Mauchline. It made two models of disc harrows: tractor drawn with 24×18 inch diameter discs; and tractor drawn with 28018 inch diameter discs.
From England, farmers could choose tractor drawn disc harrows from Bedford Plough & Engineering Co. Ltd, Before, E. H. Bentall & Co. Ltd, Haybridge, Malden, Essex, Byron Farm Machinery Ltd, London, Harry Ferguson Ltd, Coventry, Kenneth Hudson & Son, Elland, International Harvester Company of Great Britain Ltd, London, Martin's Cultivator Co. Ltd, Stamford, Ransomes Sims & Jefferies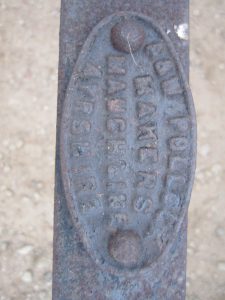 Ltd, Ipswich., and Walter A. Wood Co. Ltd, Horsham, Sussex. Of these makers, Ransomes Sims & Jefferies had the widest range, for both animals and tractors. Its tractor drawn ones included 6 ft 8 in wide ones with 24, 28, 32 18-inch diameter double discs.
There are still examples of the Scottish disc harrows around working displays at Scottish rallies. If you see a set, compare and contrast them with sets from the English makers, including Harry ferguson Ltd, whose disc harrows are more frequently seen.
The photographs of the A. & W. Pollock disc harrows were taken at the Scottish National Tractor Show, September 2014.