If you wanted to buy a set of rollers in 1952 you could choose from a variety of types and from a range of makers.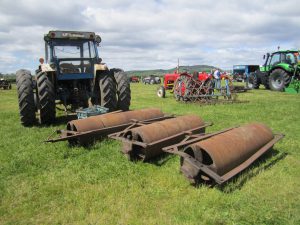 Rollers came in a number of different types and included flat, Cambridge, ridge, and triple-gang rollers, which could be horse or tractor drawn. Widths ranged rom 7 feet wide to 24 feet wide. Some of the makers manufactured speciific types, while others made a broad range, for the two different types of power.
English makers included The James Clay (Wellington) Ltd of Ketley, William Cook, Peterborough, Diss Foundry Ltd, Diss, East Dereham Foundry Ltd, Dereham, Norfolk, H. Leverton & Co. Ltd, Spalding, F. W. Pettit, Spalding, and Walter Wilder & Sons Ltd, near Wallingford. That latter one had a wide range including both horse and tractor drawn Cambridge, horse and tractor drawn flat, and furrow press rolls.
There were a number of roller makers scattered throughout Scotland. John Rutherford & Sons Ltd, Coldstream, manufactured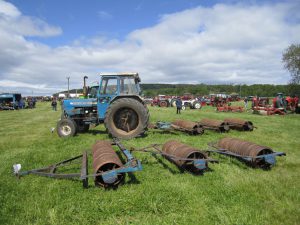 triple gang rollers for the tractor. In the Lothians, A. Newlands & Sons Ltd, Linlithgow, manufactured flat tandem rollers, tractor drawn, with a working width of 15 feet to 17 feet 6 inches, as well as flat, tractor drawn harrows, 9 feet in width. In the west, Charles Weir Ltd, Strathven, had tractor drawn, flat type rollers, with a 9 foot to 16 foot rolling width as well as horse drawn, flat type rollers, with a 6 feet rolling width.
In central counties there was Cruikshank & Co, Denny, a well-known maker, with tractor drawn roll pack rollers in three sections, fro flat and Cambridge, with a 16-27 foot rolling width.
In the east there was the Forfar Foundry Ltd, of Forfar, which manufactured Cambridge rollers. Alexander Thomas, Guildtown, Perthshire, also made rollers. In the north-east there was George Forsyth, Tocherford Smithy, Wartle, Aberdeenshire, with three gang roller, while E. T. Y. Gray, Fetterangus, manufactured horse or tractor draught flat harrows from 3 feet to 27 feet in width. William Nicol, Milbank Smithy, Tillfourie, Aberdeen, had tractor drawn roller pack of 12 feet and 15 feet in width.
Roller-making was an important activity for some of the Scottish agricultural implement and machine makers. farmers and other agriculturists had a good selection of makers to choose from.
The photographs of rollers were taken at the Five Vintage and Agricultural Machinery Club rally, June 2015.