In 1952 the most frequently used implement to harvest the potato crop was the potato spinner which had been painted nearly a century earlier in 1855.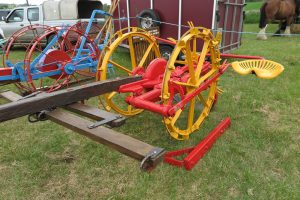 A number of the key makers of potato spinners from the 1860s and 1870s onwards in Scotland, also continued to make them in the early 1950s. They included J. Bisset & Sons Ltd, Blairgowrie, with its "Empire" digger, available for horse or tractor draught. A. Jack & Sons Ltd, Maybole, had its "Imperial" and "Caledonian" for horse draught. A. & W. Pollock, Machine, had "The Perfect" for horse or tractor draught. John Wallace & Sons Ltd, Glasgow, also had its machines.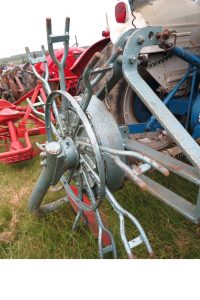 There were also some newer makers. They included A. Newlands & Sons Ltd, Linlithgow, with its hydraulic mounted p-t-o driven tractor. It could be used for Nuffield, Fordson Major, David Brown and Ferguson tractors. Forfar Foundry Ltd, Forfar, continued to make the "Mollison" digger for either horse or tractor draught. A relative newcomer to the potato spinner market was E. T. Y. Gray, Fetterangus, with its tractor mounted spinner.
English makers were also commonplace, including Bamfords Ltd, Uttoxeter, David Brown Tractors Ltd, Meltham, Harry Ferguson Ltd, Coventry, Harrison, McGregor & Guest Ltd, Leigh, R. A. Lister & Co. Ltd, Dursley, Martin's Cultivator Co. Ltd and Ransomes Sims & Jefferies Ltd, Ipswich.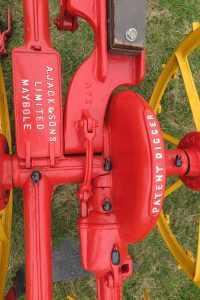 A decade later, in 1963 the pattern of makers had changed: mechanisation was starting to make inroads, with the growing popularity of the elevator digger and complete harvesters were starting to become more effective. Scottish makers included Forfar Foundry Ltd., Grays of Fetterangus Ltd, Alex Jack & Sons Ltd, A. Newlands & Sons Ltd, A. & W. Pollock, Machine, John Wallace & Sons Ltd. There was, however, one newcomer to the Scottish scene: Reekie Engineering Ltd, which was to become such an important name in the mechanisation of the potato crop.
So we have a wide selection of spinners from major makers. What was the best made and model – and why?
The photographs of the potato spinners were taken at the Fife Vintage Agricultural machinery Rally, June 2016.