If you were a farmer or other agriculturist looking to buy a hay sweep in 1952 you could choose one from a number of makers. Although most of the makers were from England – such as Harry Ferguson Ltd of Coventry or Rickery Ltd, Carlisle, there were still a small number of Scottish makers.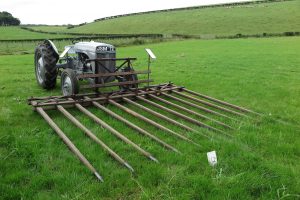 In Aberdeenshire Tullos Ltd, Greenwell Road, Aberdeen, had sweeps for a wide range of tractors including Ferguson, Ford Ferguson, Fordson Major, David Brown, International and nuffield. Its sweeps had a width of 9ft 10 inches with tines of 8feet 11 inches.
In Perthshire you could get a tractor front attached sweep of 10 feet width from J. Bisset & Sons Ltd, Greenbank Works, Blairgowrie. Another maker intuit county was A. Proctor & Co., of Perthshire. The company made a sweep for tractor front mounting. There were two types: one with a universal fitting or hydraulic linkage with a capacity of 10cwt; a second was a combined sweet and a tripod hut transporter which could be converted by fitting with different tines. (This was an area where hay was forked onto tripods to dry). A third Perthshire maker was Alexander Thomas, Guildtown, which also made sweeps for tractors.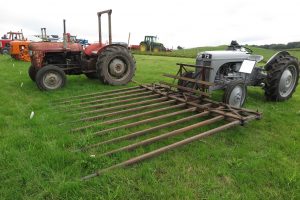 From the west of Scotland a key maker was Wm. Dickie & Sons Ltd, of Victoria Works, East Kilbride. The company made a folding hydraiulic sweep, mounted or fixed type, which would fir most makes of tractors. In Ayrshire, Thomas McKellar & Sons of High Fenwick, made one for attachment to tractors.
In the south-east farmers could by a tractor mounted sweep from John Rutherford & Sons Ltd, Home Place, Coldstream, Berwickshire.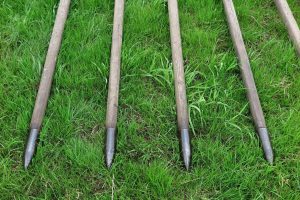 A good selection of hay sweeps from a number of key makers in Scotland.
The photographs were taken at the Ayrshire vintage agricultural rally, July 2017.