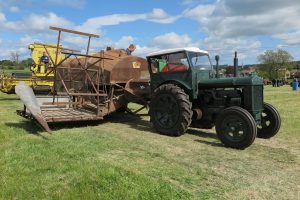 If you were looking to buy a combine harvester in 1952 you would have had to look at machines made in other parts of Britain and Europe, with machines being imported through dealers.
You could choose between tractor drawn or self-propelled models, with the former being more common at this time.  Tractor drawn ones could be powered from the pto or engine driven. Their cuts varied from 4ft to 9ft (quite a change from those of today!).
You could choose a machine from one of eight makers and suppliers:
Allis-Chalmers Manufacturing Co., Totton, Southampton ('Allis-Chalmers All-crop')
Associated Manufacturers' Co. (London) Ltd, Wembley, Middlesex
Bolinders Co. Ltd, London ('Monktell')
J. Mann & Son Ltd, Saxham, Bury St Edmunds ('Claas')
Marshall Sons & Co. Ltd', Gainsborough, Lincs ('Grain-Marshall')
Massey-Harris Ltd, Manchester
Sale Tilney (Agricultural) Ltd, Wokingham
M. B. Wils & Co. Ltd, London ('Wild harvest thresher').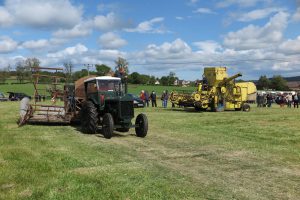 Among them was an established name in grain handling equipment and threshing machines: Marshall Sons & Co. Ltd, of Gainsborough. Its "Grain-Marshall", model 602, was a tractor drawn, and engine driven machine with a 5ft 6in cut. Massey-Harris Ltd, Manchester, was the big name in combines.  It was selling its self-propelled no, 726. J. Mann & Son Ltd was another major player, also with the largest cut, on its tractor drawn 'Claas'; it came with the option of being either pto or engine driven.  It incorporated a straw press, bagging platform or tank.  It was also suitable for stationary or stook threshing.
These combines changed significantly, as were the suppliers in the following decades, though Claas and Massey Harris were to come to rule the Scottish harvest field.
The photographs include later combines from Claas, as seen at Fife Vintage Agricultural Machinery Rally, June 2015 and B. A. Vintage Stores, May 2016.
© 2016 Heather Holmes