We have mentioned in recent posts that there were a number of agricultural implement makers with the surname Wallace.  John Wallace & Sons, Glasgow, was the most famous and eminent of these implement and machine makers.
One of the members of that family, Robert Wallace, made an important contribution to the making of agricultural implements and machines in Ayrshire.  The Scottish Farmer described his work as an implement and machine maker in his obituary, published on 26 September 1903: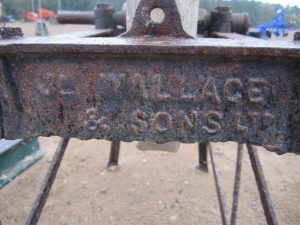 "Mr Robert Wallace, implement maker, Whitletts, near Ayr, who died on Friday last at Tarbert, Loch Fyne, the residence of his daughter, was a notable Ayrshire man, and the father of the Scottish implement trade. He was in his eighty-third year.  Until a few years ago he took an active part in conducting his implement business at Whitletts, which he successfully carried on for over forty years, but owing to the infirmities of old age.  He had lately to retire therefrom. Mr Wallace belonged to a family long connected with agricultural implement making, his father in the early years of last century being a country blacksmith and implement maker in Galston, and in his day a famed plough maker.  His elder brother was the late John Wallace, of Graham Square, Glasgow; and another brother emigrated to New Zealand, and there carried on an implement trade until his death.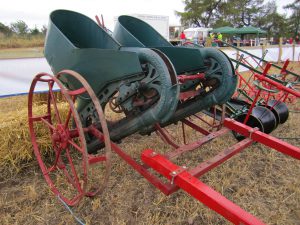 Over forty years ago Mr Wallace turned his attention to the manufacture of mowers and reapers, and could claim to be one of the early pioneers of the trade in Scotland.  His last great work was inventing and patenting the disc manure sowers, and the combined double-drill ploughs and manure sowers, the latter machines being much valued by early potato growers.  In early manhood Mr Wallace cast in his lot with the then small band of temperance men, and became a total abstainer, and could recount many a tale of the keen opposition total abstainers had in these early days to endure, but the temperance cause never had a more faithful and true disciple.  For many years, and up till his death, he was an elder in Newton-on-Ayr United Free Church, and took a warm interest in the moral and spiritual welfare of the people.  He was a man of sterling principles, and possessed in a marked degree that spirit of independence so characteristic of the true Scotchman.  He leaves four sons and two daughters to mourn his loss.  The two elder sons carry on the business of ironfounders and implement makers in Castle-Douglas. To all his family, we tender our sympathy in their bereavement."
Another important contribution made by an eminent family of Scottish implement and machine makers.
The photograph was taken at the National Scottish Tractor Show, September 2014.
© 2016 Heather Holmes