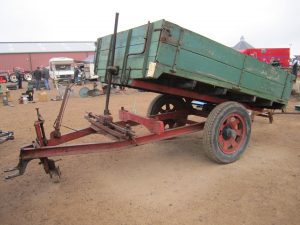 By 1960 A. Laurie & Sons, Camelon, Falkirk, could state that it had been established over a hundred years. In 1922 trade directories record it as a smith, a trade that it continued in following decades. By 1935 it described itself as trailer and motor body builders, descriptive terms that it continued to employ until at least the early 1960s. Its work as a motor lorry and wagon builder had started around 1928, and in 1930 it had extended into being a motor car body builder.
T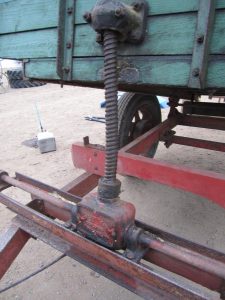 he company changed with the times, and by late 1961 Alex Laurie & Sons had become Alex Laurie & Sons (Trailers) Ltd.
While it was a long-established company, it did not start to exhibit at the Highland Show until 1921. It sporadically exhibited during the 1920s and 1930s. It was not until after 1948 that it became a regular attender at the show, continuously attending in the following decades. Its interest in the agricultural market was reinforced by its advertising in the Farming News from 1945 until 1961 and the Scottish Farmer from 1936 until 1970 (though there may be later adverts).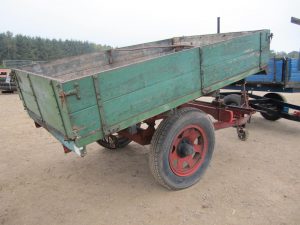 In 1949 the company manufactured a range of trailers. These included a 30/35 cwt tipping trailer (balanced), a 50 cwt tipping trailer (screw), a 70 cwt tipping trailer (screw fitted with stock sides), a 3 ton low loading trailer, a potato trailer (Rae's patent), a 5 cwt car trailer, and a 3 ton 3 way hydraulic tipping trailer.
The photographs of the Laurie trailer were taken at the Scottish National Tractor Show, Lanark, September, 2014.
© 2016 Heather Holmes