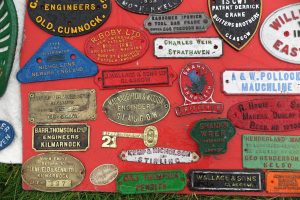 One of the largest implement and machine makers in south-west Scotland was James Gordon. On his death in 1923,the North British Agriculturist included an extensive obituary. It provides a number of insights into the nam, his business and the implement trade:
"We noted last week the death of Mr James Gordon, in his time one of the most widely known men in the agricultural implement trade, which occurred at his residence, St Mary's Drive, Kirkcudbright. Mr Gordon was born at Culraven, Borgue, near Kirkcudbright, on March 2, 1849, and it is of interest to note that his family have been connected with that farm for the long period of 400 years. In 1865 Mr Gordon went to Bradford, Yorkshire, to serve his apprenticeship with the then well-known firm of McKean, Tetley & Co., wholesale merchants and manufacturers. He had only been about three and a half years in the warehouse, when the management, recognising his ability, put him to the "road" as their representative, and he continued to act as their traveller, and that very successfully for the next four years. Those were exciting days, with great political unrest, and Fenianism was abroad in the land. It was during the years 1869-70 that Mr Gordon, then a strapping young Gallovidian, was sworn in as a special constable, and he retained until his death hhis baton as a memento of those stirring days.
In 1870, when the Highland and Agricultural Show was being held at Dumfries, Mr Gordon came to assist his brother John with his stand on that occasion, and this was his first introduction to the implement trade-a trade which soon came to claim such a large portion of his lifework and brought him into contact with agriculturists all over the country.
In 1872 his father passed away at Culraven, and he have up his situation at Bradford, coming to Castle Douglas to take over his brother John's business, which had been established seven years before, and where a considerable business had been done in the seed and manure trade, as well as in agricultural implements. Mr John Gordon then went to take charge of the farm of Culraven, At that period agricultural implements were beginning to come into their own, and the business grew rapidly. In 1874 Mr Gordon introduced Wood's side-delivery self delivery, which soon became very popular anode which a large number were sold in the next few years. Two years later he was the means of introducing another well-known machine, Harrison, Macgregor, & Co's back-delivery self-delivery. It may be of interest to agriculturists to note that in those days, now so far away, the price of wool was 2s 6d per lb, grain 4s 6d a bushel, and hay about 1s 6d a stone. these were good prices, and thus farmers were enabled to go in for implements to a large extent. At the Royal Society's show at Carlisle in 1881 Mr Gordon showed his champion turnip drill for the first time. It received the special attention of the judges and soon proved one of the most popular. A year later he showed the first binder in Galloway, the Walter A. Wood's binder, which was tried on the farm of Marshfield, in the neighbourhood of Castle Douglas, then tenanted by his relative, Mr Payne, and also on the farm of Greenlaw, in the same district. It did good work, but at that time wire was used for binding the sheaves, and farmers had a strong prejudice against it. In addition, it was a pretty heavy draught.
Four years later Woods brought out a much improved binder, using twine in place of the wire, and this immediately came into its own. At the trials carried out by the Highland and Agricultural Society at Terregles, near Dumfries, Mr Gordon entered the Woods binder, and there was a great fight between the woods binder and a binder made by Hornsby, of Grantham, for the £100 prize offered by the Society. the judges were divided in their opinion as to the better machine, and eventually the prize was divided between the two competing firms. Mr Gordon's next venture was the introduction, in 1900, of the Patent New Century Coulter on his drill. This was a big improvement on anything which had preceded it, and immediately brought his drill into the front rank, with the result that when he retired he had sold no fewer than 3500 of them. He also invented and registered the Galloway Turnip Cutter, with hinged hopper, and this too caught the popular fancy, he being sole agent over a wide extent of territory stretching from Penrith in Cumberland to Stranraer in Wigtownshire. He also patented an oil cake mill, with hinged hopper, on the same lines as the galloway cutter. Besides being agent for most of the leading manufacturers, Mr Gordon had a considerable workshop in Castle Douglas, where he manufactured, besides turnip drills and cutters, large numbers of cattle troughs, meat coolers, corn bins, ploughs and harrows, wheel barrows, &c, besides a large connection in repairing farm implements and machinery. As showing how he was respected as an employer, it may be mentioned that when the war broke out in 1914, one of his men had been 40 years with him, two about 35 years, one 24 1/2 years, one 17 1/2 years, and still another 5 years. Mr Gordon travelled through Wigtownshire twice a year, so that, with his four years in Bradford, he had travelled for over 54 years altogether, from 1868 to 1922.
When Mr Gordon came to Castle Douglas the last post left that flourishing market town at 6,40pm. He soon ascertained that the Newton Stewart people, who were 30 miles farther from London, could post up till two hours later. He took the matter up with the Postmaster-General, with the result, gratifying to the community as well as to himself, that a mail was granted up till 9.40pm, thereby adding very much to the convenience of the business community. In the course of the years he became well known among the agricultural community from Thurso to Cornwall, his turnip still being sent all over Great Britain by agents, and even to Nova Scotia, while the Canadian Government bought one 30 years ago.
While deeply engrossed in business, Mr Gordon found time tons serve the public in various useful capacities. he had been an elder in Kelton Parish Church and also Castle Douglas Parish Church for many years. In a more public capacity he was for long a member of Castle Douglas Town Council and also of the local School Board, and in both spheres did excellent work, always endeavouring to make for economy and efficiency. He was also vice-chairman of the Castle Douglas Citizen's Union, and collected two-thirds of the funds to set it afoot. He also took a leading part in the formation of a branch of the Middle Class Union.He had been a life member of the Highland and Agricultural Society for 44 years.
Mr Gordon had a very worthy helpmate in his wife, who ably assisted her husband in his business career,a nd during the war years did an extraordinary amount of work on behalf of war charities, taking a prominent part in organising efforts on behalf of serving soldiers and their dependents."
Have you seen any implements and machines made by James Gordon?