The Ayrshire Elevator Co. Ltd, of Ayrshire Elevator Works, Knockentiber, Kilmarnock, was incorporated on 19 January 1959 and continued in business until it was dissolved on 29 October 1982; it ceased trading from 1974 onwards. Its proprietor was the Hurlford Engineering Co. Ltd, with Gerald Harris, an agricultural implement maker, being a Director.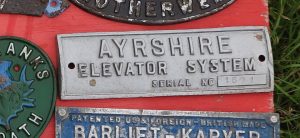 It was a small implement and machine maker, with a share capital that did not exceed £5000. Its objects included carrying on the business of merchants, wholesale and retail, dealers in and manufacturers of mechanical and other implements, tractors, vehicles, and equipment and articles of all kinds designed for or adopted for use in agriculture and farming in all their branches; the carrying on the business of manufacturers, importers, exporters, and merchants, both wholesale and retail, of and in manures, fertilisers, sheep-dip, feeding stuffs, fattening preparations of all kinds, hay, straw, grain, feed and flour, and in agricultural and horticultural produce of all kinds.
The business was a forward-looking one, with Gerry Harris, inventing a number of implements and machines that were entered for the new implement award of the Royal Highland and Agricultural Society of Scotland in 1960. These were an automatic bale pick-up attachment fitted to Ayrshire elevator; a sugar beet cleaner, fitted to Ayrshire elevator, and attachments for bulk storing potatoes, fitted to Ayrshire elevator. It exhibited at most of the Highland Shows in the 1960s and sporadically advertised in the Farming News and the Scottish Farmer.
If you visited the company's stand at the Highland Show in 1960 you would have seen a wide range of its implements. They included a standard elevator; a standard elevator arranged for bulk storing potatoes, complete with fixed extension and oversize wheel equipment designed to deliver potatoes at heights up to 9 feet; a standard elevator complete with automatic swinging extension designed to bulk store potatoes at heights of 8 ft 6 in and distribute them evenly through an arc of 6 ft; a dairy elevator with automatic pick-up coupled to Fordson "Dexta" tractor; a dairy elevator, fitted with lightweight bale extension for delivering bales to 21 feet; a dairy elevator with oversize wheel equipment; a standard elevator equipped with sugar beet cleaner and throw-off chute; a standard elevator equipped with automatic swinging extension; and a standard elevator, fitted with an automatic pick-up unit for round or square bales.
The Ayrshire name was closely linked with modern bulk handling – the way to modern, mechanised farming.