If you were an Aberdeenshire farmer at the turn of the twentieth century you may have been familiar with the name of Allan Brothers, engineers, 102 West North Street in the city. From 1901 the company moved to the Ashgrove Engineering Works, Back Hilton Road, in the city, where it continued its business for the next half century.
The company was started by James Allan and Richard Allan, but their partnership was dissolved by mutual consent in February 1899. James took over the business, carrying it on under the name of Allan Brothers. The company became incorporated as Allan Brothers (Aberdeen) Limited in 1847, and finally wound up its business in 1857, having ceased business in the summer of 1956.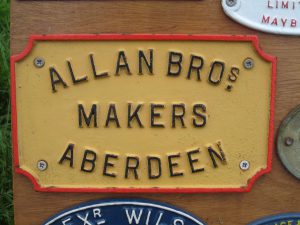 Allan Brothers were engineers, gas engine manufacturers and oil engine manufacturers who manufactured a range of engines for the agriculturist and other industries. By the late 1930s the company was also a millwright, making range of threshing mills; it earlier sold mills made by other makers. In 1939 it described itself as "Allan Bros, engineers and millwrights, Aberdeen, in the Scottish farmer.
Allan Brothers was renowned as the maker of the "Allan" oil engine. It was entered for the New Implement Award of the Highland Show in 1926. This is how the company described its entry in the Show Catalogue of that year:
""Allan" oil engine. Invented by Allan Brothers.
Fitted with last improved "frozen cylinder saver", which consists of an opening in cylinder jacket covered by a flexible diaphragm secured by a ring. If the cylinder is allowed to freeze, the diaphragm bulges out and bursts, thus releasing the pressure due to freezing, and prevents the cylinder jacket-the most expensive casting of an oil engine-being destroyed. Price £190."
The company were regular exhibitors at the Highland Show from 1901 until 1949. In 1909, for example, it exhibited a range of oil engines which ranged from 3hp to 23hp as well as a "4ft wide thrashing & finishing machine of new design, and combining all the latest improvements, made by Mackie & Co."
Allan Bros, a noted maker in implement and machine making.
The Allan Bros name plate was photographed at Farming Yesteryear, September 2014.
© 2016 Heather Holmes