If you were a farmer or agriculturist in Forres, Morayshire, from the 1940s you would have known the name of William Reid of St Catherine's Road, Forres.
William was already in business in 1922. By the following year local directories start to reveal more information about his activities. He was described as an engineer and millwright. These two activities formed the basis for William's business which was to continue in the next few decades. The company modernised its business structures through the formation of a company limited by guarantee and on 11 May 1838 became incorporated as William Reid (Forres) Ltd.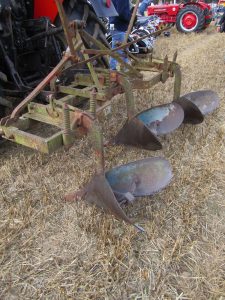 The company exhibited a number of times at the Highland Show: in 1923, 1939, 1948 and 1948. It usually attended the Show when it was in Inverness, indicating that it had a customer focus around the Moray Firth and Inverness-shire (it also advertised in the Framing News from 1945, bringing its name to the attention of the wider Scottish farming community). It was an innovative company, entering a divider attachment for power binders invented by J. F. falconer, for the new implement awards at the Highland Show in 1939. In 1956 it entered the "Forresian" portable sawmill for the new implement awards.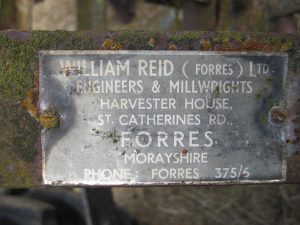 By the mid 1930s trades directories reveal that the company was not only a maker of agricultural implements and machines, but also an agent and dealer. This role was important in bringing a wide range of implements and machines to the framers and agriculturists of the Forres district. In 1955 the company was an agent for David Brown and International-Harvester, and in 1958 also for Claas. In 1966 dealerships included those of International Harvester, McCormick, Atkinson, New Holland, Bamford and Alfa-Laval. A number of reputable and notable names!
There are still a number of implements and machines with the William Reid (Forres) Ltd badge on them around the rally fields. You will most likely see them around the Morayshire and Inverness-shire rallies – have a look out for them!
The photographs were taken at the Strathnairn Vintage Rally, September 2014.