Trade directories of implement and machine makers from the late nineteenth century sometimes include Berwick on Tweed in Scotland. This means that the Berwick on Tweed implement and machine maker William Elder & Sons is included under the heading of Scottish agricultural implement and machines makers.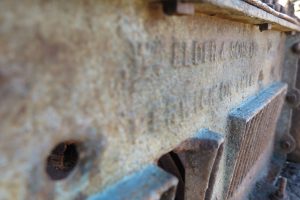 While firmly associated with Berwick on Tweed, and the Vulcan Foundry, the company sold its implements and machines into the Scottish Borders. The company set up an asociated trading company in Glasgow in the First World War. This was William Elder & Sons (Glasgow) Ltd. However, it did not remain in business for long. After the First World War, it established premises in Scotland. In 1922 they were located at Hope Park, Haddington, and at Newton St Boswells; these premises continued to trade into the early 1960s. By the early 1960s they were also associated with Reston Motor Garage, Motor Engineers, Reston.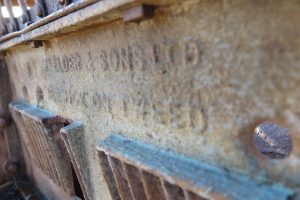 In Scotland the company functioned as an agricultural implement maker, an agricultural engineer, a mechanical engineer and a millwright. It acted as an agent for Massey Harris in 1926, and for Albion in 1945, and David Brown in 1955.
There are still a number of implements and machines that bear the Elder name around the rally fields.
The photographs of the Elder turnip cutter were taken at the Strathnairn Vintage rally, 2016.