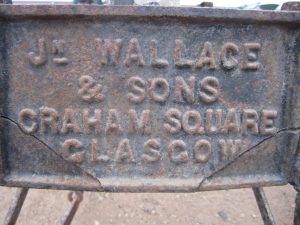 One of the major Scottish implement an machine makers who was well known throughout Scotland, Britain – and indeed the world – was John Wallace & Sons Ltd. The company was already trading in Glasgow in 18655, from Graham Square. Graham Square was to form the address of the company until the late 1960s. By 1894 it had premises at 7, 9, 10 and from 28 to 38 Graham Square. By 1905 there were also branches at Ayr, Cupar, and Stirling; in 1913 they were recorded as Ayr, Perth, Cupar and Lanark.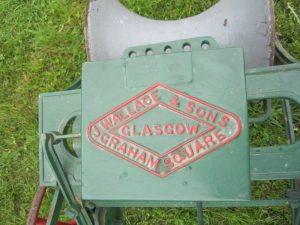 The company was a forward looking on: it became a company limited by guarantee in December 1896; it changed its form a number of times during its history. It started to exhibit at the Highland Show in 1867, and attended shows in each of the different show districts, demonstrating its wish to be a company known throughout Scotland. The Highland and Agricultural Society awarded it numerous awards for its manufactures including a medium silver medal for collection (1870, 1875). It also won a number of awards at the Society's prestigious implement trials, including third prize of £5 for potato digger in 1881, and equal award (with 3 others) for potato digger or lifter in 1911. It also entered a number of the Society's trials including its trial of mowers in 1882, trial of binders in 1893, turnip lifters in 1895, swathe turners in 1905, potato diggers or lifters in 1909, potato diggers or lifters in 1911, and potato planters in 1914. The company regularly advertised in the Scottish agricultural press from 1864 onwards.
The company also took over the business and patterns of other leading implement makers in the west of Scotland. The included Archibald Forest, award winning plough maker, Uddingston, Lanarkshire; Archibald became the foreman in the plough department of the Wallace works in 1905.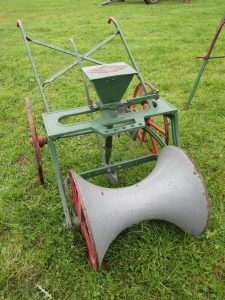 The company had a wide range of trades: from the 1870s they included agricultural implement maker, constructional engineer, contractor, engineer, galvaniser, also iron house and roof constructor, iron door maker, iron and wood building manufacturer, lawn mower maker, and machinery merchant. It made a wide range of manufactures including ploughs, harrows, turnip drills, potato diggers and lifters, reapers and mowers, hay making machinery, and iron buildings. It became a significant agent for a range of implements and machines from the best known and renowned makers in Britain. In 1911 they included Blackstone & Co. Ltd, Stamford, Frost & Wood, Ontario, E. H. Bengal & Co., Heybridge. In 1913 that list also included W. N. Nicholson & Sons Ltd, Newark on Trent, and the Oliver Plow Company, South bend, Indiana.
The Wallace family were key players in the development of the company. In 1896 they included James Wallace, William Wallace, Robert Wallace, John Wallace, William B Wallace, and John F. Wallace. They included notable figures in the implement and machinery trade, as well as the wider community in Glasgow. The Scottish Farmer highlighted some the qualities of William Wallace in an obituary on May 18, 1912. It reads: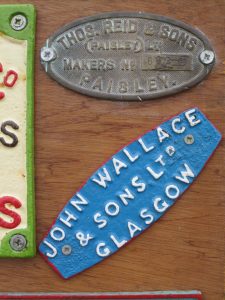 "While this is important in recording the great William Wallace's achievements, it also provides a good deal of information about his role within the wider public life of Glasgow, and the important contribution that he made to it. It also sets out some of the wider history of the eminent firm of John Wallace & Sons, and the wider role of the family within Scottish and world agriculture.
"Mr William Wallace, J.P.
Throughout the agricultural world there will be abiding sorrow at the tidings of ex-Bailie William Wallace, managing director of the well-known firm of John Wallace & Sons (Ltd), implement makers and agents, Glasgow. Mr Wallace was for many months a sufferer, and he might have said that he had suffered many things of physicians, and had been little the better. He passed away on Monday, 13th inst., in his own home, 5 Oakley Terrace, Dennistoun, Glasgow, aged sixty-five.
Mr Wallace belonged to an old Ayrshire family, hailing from the parish of Fenwick. He was born in Dalkeith while his father was foreman in Mushatt's Foundry in that town. Subsequently Mr John Wallace removed to Mill of Haldane, in Kilmaronock parish, Dumbartonshire. There he kept the local "smiddy", and developed that skill in handling agricultural machinery and implements which eventually went to the establishing of the reputation of his firm as one of the foremost in that trade. At Mill of Haldane Mr William Wallace and his elder brother, Mr James, who predeceased him, were brought up, and made their first acquaintance with their future trade in the country "smiddy". About half a century ago the family removed to Glasgow, and James and William joined their father in founding the firm that has long been in the front. Mr James Wallace devoted himself more to the mechanical side of the business, and was therefore not so well known publicly as his brother. Mr William Wallace for many years was the representative of the firm at all the principal shows, and in many of the chief market towns. He was a first-rate business man, a good salesman, with a fine commercial instinct, and honourable and straightforward to a degree. Possibly there was in broad Scotland no better known or more widely respected member of the implement trade. A life member of the principal agricultural societies, he frequently was chosen as the spokesman of his trade when arranging details with these institutions. He also devoted much time and attention to the work of the Glasgow Agricultural Society, of which he was for various terms a director.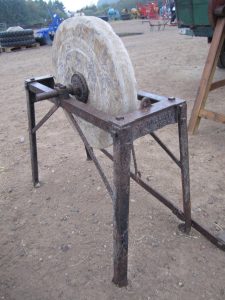 In 1902 Mr Wallace entered the Glasgow Town Council, and soon won a foremost place in its committees. He was not fond of public speaking, but when occasion required he could give quite a good account of himself at the Council board. His best work, however, was done in committee, and so highly were his qualities esteemed that after a comparatively short probation he found his way to the bench. As a magistrate, Bailie Wallace shone. He was essentially a man of kindly disposition, and aimed at being just. On the bench these qualities had full play, and he was held in much esteem as one of the best of the citizen magistrates. Identified throughout his life with the total abstinence movement, his experiences as a magistrate confirmed him more and more in the belief that the liquor traffic was prejudicial to the best interests of society. If possible, his total abstinence principles became more pronounced as he advanced in years, and in connection with that matter he was well known to be one of the temperance stalwarts in the licensing bench. He was a representative of the Town Council on the governing bodies of the West of Scotland Agricultural College and the Glasgow Veterinary College, and he also devoted much attention to the affairs of the Scottish Labour Colony.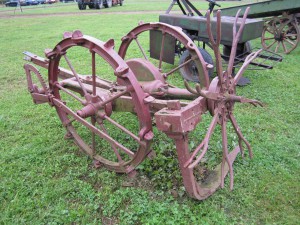 Altogether, Bailie Wallace spent a worthy, noble life, working for the good of his fellow-men, and in business relationships securing the cordial goodwill of customers and competitors. He was universally recognised as a "white man", one who played the game, and never feared either to express his opinions or to act up to them. He is survived by Mrs Wallace, who was in all points a most worthy helpmeet, and their family of four sons and one daughter. Two of the sons-Messrs John F. and Duncan-are in the form of John Wallace & Sons (Ltd); one-Mr Wm B. Wallace, formerly farmed at Broomhouse, Corstorphine, and is now farming in Surrey; and the fourth is in South Africa. To Mrs Wallace and her family we tender our respectful sympathy. The funeral, which was private, took place on Thursday to Janefield Cemetary, Glasgow."
If you are walking round the rally fields, the chance is you will see an implement or machine made by the Wallace family. There are still a few to be seen.
The photographs were taken at rallies across Scotland in 2014 and 2015.