One of the well-known Ford dealers in the east of Scotland was A. T. Mungall Ltd. In 1958 it celebrated its silver jubilee as a Ford dealer. The following celebratory article appeared in the Kirriemuir free press on 23 October 1958 which tells of the company's history and association with Ford: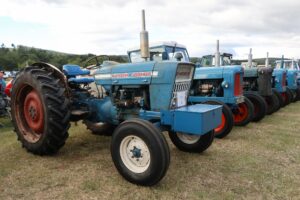 "Forfar firm's distinction
Twenty-five years as Ford dealers
A. T. Mungall Ltd, the well-known Forfar firm, are this month celebrating their silver jubilee connection with the Ford Motor Company. They became Ford dealers in 1933.
Messrs Andrew and Robert Mungall acquired the old North Road Garage in February, 1932, having previously been with David Callander Ltd, Roberts Street.
They started off with one employee, and now they have forty-five.
The cheapest Ford car, when they took on the representation, was selling at £100, but that was before purchase tax and the Second World War.
Within a couple of years, Mr James Mungall joined his brothers in the business which had been built up substantially before the war broke out, including a three-fold increase in accommodation.
During the war, when agriculture became all-important, the firm was appointed the Department of Agriculture's engineers for this area. This involved supervision and maintenance of the Department's fleet of 30 to 40 tractors and associated implements, which during those difficult years, brought many neglected acres back into cultivation.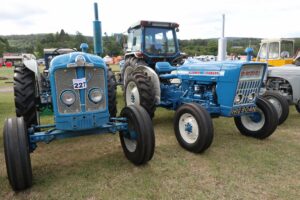 Following the war, they built separate premises in Lochside Road for their tractor and implement business.
A sore blow to the firm and to his innumerable friends was the sudden death of Mr Andrew Mungall in 1955.
Washing accommodation and equipment on a production scale was added in 1957-58, and has proved very successful, and a new petrol station is meantime in the course of construction at Queenswell Road and Craig-o-Loch Road. The equipment and parts stock for cars, commercial vehicles and tractors is first-class and leaves nothing to be desired.
Mr Robert Mungall has gone to London this week, and will meet Mr Henry Ford II, the grandson of the famous pioneer and founder, at a cocktail party for Ford dealers."
The photos were taken at the Deeside Vintage Rally, August 2022.