One of the names long associated with Dumfries was Thomas Turnbull of Castlebank Mills, later the Pleasance Implement Works. He is recorded as being in business from at least the 1880s until at least the mid 1930s.
Thomas Turnbull undertook a number of trades, as an implement maker, an engineer, and iron founder, a millwright and lately as a millwright and mechanical engineer.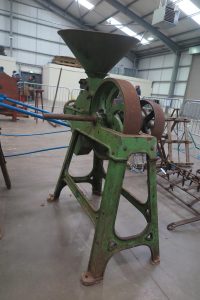 Thomas's business made a number of implements and machines as well as selling those from other makers. By the 1920s the company was well-known fro its broadcast sowing machines. It was agent for a number of businesses. In the 1880s they included Harrison, McGregor & Leigh, Lancashire, Alexander Jack & Sons, Maybole, W. N. Nicholson & Son, Newark on Trent, A. Pollock, Mauchline. In 1910 they also included Henry Bamford & Sons, Uttoxeter, Richmond & Chandler, Manchester and James Gordon, Castle Douglas.
The company largely had its business activities in the south of Scotland. It largely attended the Highland Show in the Dumfries and Edinburgh show districts between 1870 and 1910. It also advertised in the Scottish agricultural press, in the North British Agriculturalist between these years.
You might still see some implements and machines made or sold by Thomas Turnbull around, especially in southern and south-west Scotland.
The photrogaphs were taken at the displenishing sale of the Corrieshill Collection, Lanark, March 2019.