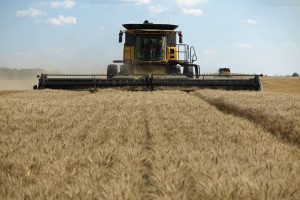 If we were to think about North American influences on the use of Scottish agricultural implements and machines we would probably think about some of the Americn companies such as John Deere and International. Canadian companies also had their role and we need look no further than the harvest field.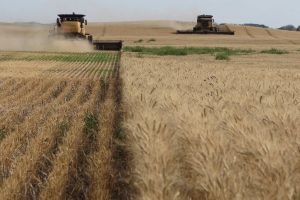 Probably the best known Canadian name in the harvest field is Massey Harris. Massey Harris – as Massey Harris Co., Massey Harris & Co. Ltd, Massey Harvester Co. Ltd, and Massey Manufacturing Co. – has been present in the Scottish fields since at least 1887. The first Massey Harvester reaping machines were exhibited at the Highland Show in 1887 by William Ford, Fenton Barns, Drem, East Lothian. William continued to exhibit at the Show until 1893, by which time other agents were coming on the scene. The Massey Manufacturing Company, 171 Queen Victoria Street, London, did not attend its first Highland Show until 1888, held at Glasgow. It remained an annual exhibitor from 1893.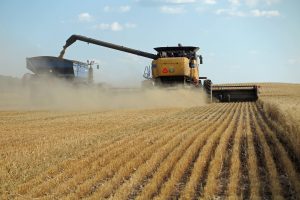 By the early 1890s other agents included the well-known name Kemp & Nicholson, Stirling, which had been renowned for its own reaping machines in earlier decades. There was also John Doe, Errol, Perthshire, Gavin Callander, Dumfries, William Elder, Berwick on Tweed, G. W. Murray & Co., Banff Foundry, Banff, A. Newlines & Son, Linlithgow, Benjamin Reid & Co., Bon Accord Works, Aberdeen, and John Wallace & Sons, Glasgow. The Highland Shows from 1893 must have been particularly notable for the number of stands featuring Massey Harris binders.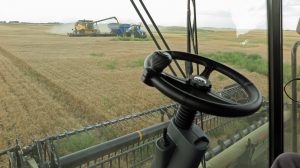 By the middle of the first decade of the twentieth century there were further agents throughout Scotland. They included Donald Murray, 62 Castlegate, Inverness, which was selling them from at least 1901, Bon Accord Engineering Co., Bon Accord Works, Aberdeen, from at least 1907, and J. & R. Wallace, Cotton Street, Castle Douglas, from at least 1910. This could be said to be a secondary wave of adoption by dealers throughout the country.
By 1952 Massey Harris in the UK was represented by Massey Harris Ltd, barton Dock, Stretford, Manchester. It made its no. 726 self propelled combine with either an 8 1/2ft or 12ft cut.
There are a few Massey Harris combines in preservation. When you see one, think about the long-lasting heritage that this Canadian firm has had on the Scottish harvest field and how it has shaped the Scottish harvest field. Also think about what the Canadian harvest looks like today.
The photographs of the New Holland at work were taken at Hargrave, western Manitoba, Canada, August 2017.