If you were in the town of Banff in 1898 you would have been aware of a change in ownership in the Banff Foundry. It had been under the ownership of G. W. Murray & Co., a famous firm of implement and machine makers that was known not only throughout the north-east, throughout Scotland, Britain, and also the world.  With the death of George, the business came to an end.  A new business came to occupy the Foundry: that of Watson Brothers.  In its first year of business it referred to itself as "Watson Brothers (successors to G. W. Murray & Co.) Banff Foundry, Banff".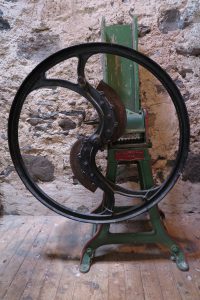 Watson Brothers were to occupy the Banff Foundry until 1924 when William Watson died.  The brothers were renowned for their reapers, turnip drills, field rollers and harrows from at least 1905 until 1924.  They traded as agricultural implement makers, iron founders, iron merchants, marine engineers, mechanical engineers and pump makers.  The brothers also sold a wide range of other manufactures.  In 1909 the Town Council of Aberchirder purchased a road roller and scraper from them.
In 1909 the brothers were reported in the local Aberdeen Daily Journal to have "had a rather busy spring, and the demand fro their standard implements, such as broadcast grain sowers, rollers, turnip drills, and horse hoes has been well maintained. In regard to harvest machinery the demand for the Milwaukee blunders was in excess of all previous years, while the Victory, which has been fitted with an improved cutting bar, has given an excellent account of itself.  The export department has been particularly busy, the shipments to Rhodesia and Africa generally having been almost double those of the previous year.  The iron punching nd shearing machines for the use of small engineers have been going off in quite large numbers. During the year six new drifters were fitted out with engines, and although there has been a lull in this department, a good few orders have been booked, the work to be carried out during the forthcoming spring.  The firm's moulding shop has been reproofed, and the fitting shop has been extended to the full extent of the available ground, which will permit of traction engines being taken under cover.  A travelling crane is another of the improvements which is to be carried out at the works, and will enable heavy castings to be moved about with ease." (30 December 1909)
Watson Brothers – an eminent name in reapers, turnip drills, field rollers and harrows!
The photographs of the chaff cutter were taken at the Highland Folk Museum, Newtonmore, May 2016.
© 2016 Heather Holmes