If you were a farmer or agriculturist in Scotland in 1920 you may have been interested to see what the implement and machine makers would have new on the market. Tractors were starting to make an appearance on farms and with them their associated implements. Some of the makers were getting their heads around the changing technologies and seeing what new implements they could invent. Existing implements and machines were also being improved.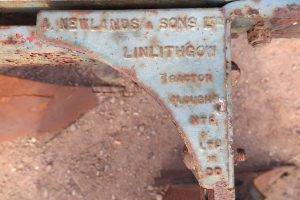 The Highland Show was an important showcase for these new implements and machines and in 1920 the Royal Highland and Agricultural Society of Scotland introduced its new implement awards. In that year six Scottish implement and machine makers entered manufactures for this new award: John McBain & Son, Churnside, Berwickshire; H. W. Mathers & Son, Perth; Alexander Newlands & Sons Ltd, Linlithgow; James H. Steele, Edinburgh; David Wilson, East Linton; and Barclay, Ross & Hutchison Ltd, Aberdeen. By 1920 all these companies were well established and well known to Scottish farmers.
John McBain & Son, well-known for its windmills, entered an improved version of the Monarch Windmill for pumping. It was fit with Hyatt roller bearings, giving improved performance and relieving friction. It had double gear wheels which gave for smooth and steady running.
H. W. Mathers & Son entered a self-propelled engine driven turnip cutter or the barrel type. This could be used for cutting turnips into finger pieces for sheep and slices for cattle. This self-propelled machine was geared to the road wheels by a chain and sprockets which allowed it to be moved from place to place by its engine power. The barrel cutter, of single or double action, was by Messrs Bentall. It had an air-cooled engine, made by the Associated Manufacturing Co. which was not liable to be damaged in frosty weather.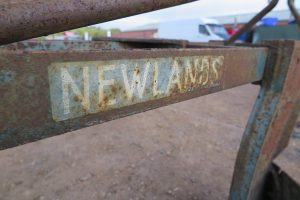 Alexander Newlands & Sons Ltd. entered a new "self-lift" attachment for its tractor cultivator. This was an improved design which was designed to operate the tractor cultivator from the seat of the tractor. The motive power was transmitted from one side-wheel and through a chain drive to the operating crank. This could also be attached to any of the old cultivators.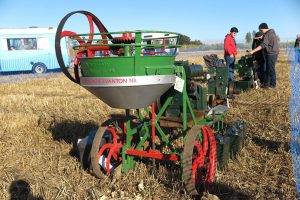 James H. Steele, an extensive agent, exhibited a machine made by another implement and machine maker: Kenneth McKenzie, engineer, Evanton. This was its portable turnip cleaner and cutter. This comprised a root cleaner with two revolving barrels put in motion by chain-drive. The turnips were put into the hopper where they were cleaned and then conveyed to the cutting disc, which was horizontal. McKenzie stated that the cutter was guaranteed not to choke, and would cut as much as "any other machine on the market". It was claimed to cut in seven different sizes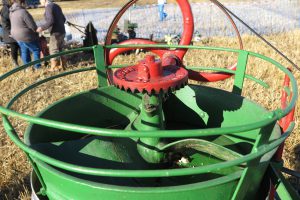 for cattle or sheep. The machine was portable and could be taken to wherever the turnips were to be cut. It was driven by a 2 1/2hp Amanco oil engine which could be used for various purposes such as chaff cutting and corn crushing.
David Wilson entered a potato raiser. Its function was to raise the tubers an leave them directly behind the machine, thus saving labour in gathering the crop. It was claimed to cause no damage to the tubers and did not bury them.
Barclay, Ross & Hutchison Ltd entered a twin sack lifter made by G. L. Weir.
All of these implements and machines demonstrated the Scottish implement and machine makers taking steps to improve the work practices on the farm. The new implement awards are still awarded by the Royal Highland and Agricultural Society of Scotland, and a silver medal provides recognition of engineering excellence for the Scottish farmer, as indeed farmers throughout the world using Scottish implements and machines.
The photographs were taken at the Scottish National Tractor Show, Lanark, September, 22015, and Daviot vintage rally, October 2016.