We often think of the large threshing mills that travelled around the farms, or that were stationed in the stackyards, as the only ways that threshing was undertaken within living memory. Threshing mill makers were well-ware of the potential of having smaller mills that could be used on the smallest farms and by crofters.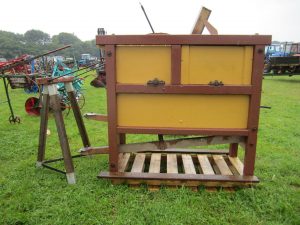 Back in the 1870s millwrights were starting to develop smaller thrashing machines that could be operated by foot power. In 1876 at the Highland Show, Shearer Brothers, Maybank Works, Turriff, Aberdeenshire, showed for the first time their "foot power thrashing mill" that it described as a "new invention". It won one of the Highland and Agricultural Society of Scotland's medium silver medal.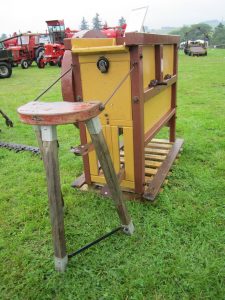 By 1882 it made its "Advance" thresher for foot and hand power with portable shaker which it continued to make in following years. By 1887 it had also extended its range of mill machinery for the smaller crofters, to include its "little "Jubilee" winnowing and screening machine, for crofters".
These foot and hand power threshers quickly became popular. The most notable makers of them were the north-eastern mill-makers Ben. Reid & Co., Bon Accord Works, Aberdeen, (which had its "Tiny" in 1870), and G. W. Murray & Co., Banff Foundry, Banff.
Shearer Brothers continued as a millwright for many years, while also being a motor engineer and garage from the 1920s onwards. It was incorporated as Shearer Brothers Ltd in 1931 and was dissolved on 31 August 1972.