The Board of Agriculture's county surveys of 1793 to 1817 include detailed account of implements and machines. A number of surveyors include detailed accounts on the adoption and use of thrashing machines. In 1799 the surveyor of Perthshire provided a short and succinct account of the use of thrashing machines in the county. It is quoted below: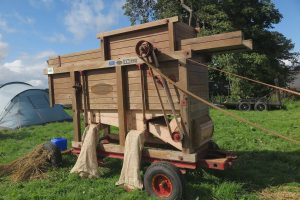 "Thrashing of corn by machinery has been practiced in this county for near half a century; and these machines are now coming fast into use. Their construction is various, according to the ingenuity of the maker. They are driven sometimes by water, but in most cases by horses. They thrash more or less in proportion to the weight of water or the number of horses employed in driving them. Mr Patterson of Castlehuntly, who introduced them into the Carse of Cowrie, has one, which is very uncommon, both for the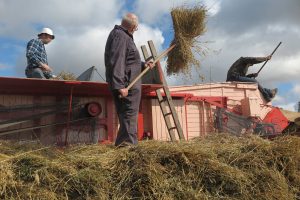 quantity and excellence of its work. A farmer in Wester Lundie near Doune, of the name of Ferguson, is said to have invented a machine of this kind, very simple in its construction and very cheap; which are two considerations of importance to the common class of farmers. There are three erected already in the parish of Callander; and another about to be made soon. The three which have been made, cost each about L20. At the moderate calculation of one shilling per boll, either of these machines will repay their own expense by thrashing the first 400 bolls.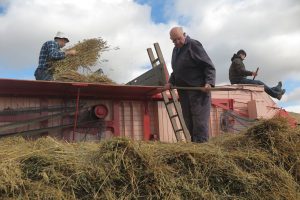 Fanners for cleaning grain have been long used by the most industrious of the farmers, and are to be met with, not only in every corn-mill, but almost in every barn, where the farm is more adapted for tillage than pasture."
A wide range of threshing machines indeed!
The photographs were taken at Farming Yesteryear, September 2018.